Phantom of the Opera's "Masquerade" has to be one of my all-time favorite stage songs and performaces. The stage exploding with colour and sparkle as the performers parade about in magnificent masks and glorious gowns - such a spectacle and celebration! So when the Macaroon team heard that Cheryl's niece wanted to celebrate her 9th birthday with a "masked ball", we had the perfect stationery suite in mind for this dazzling dance party.
A "Masquerade Ball" is a fabulous theme for the pre-teen girls - aged 9 - 12. It allows them to feel slightly special and grown-up, dressing up in lovely dresses and staying at the party just in to the dark hours (4pm to 7pm is a great guideline for this theme) - while still being little girls and enjoying some crafting and dancing.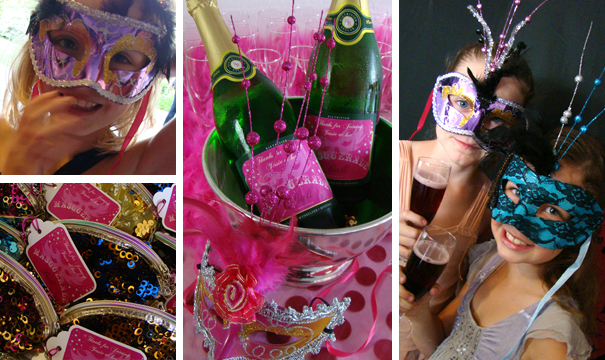 Bottles of sparkling grape juice or kiddies bubbles are a festive way to kick off the celebrations. Welcome your little guests with a glass of "kiddies bubbly", making them feel very special - Macaroon's Masquerade stickers are a wonderful way to theme your bottles of fizz.
Guests were asked to dress for a ball, so the girls pulled out their party dresses (making a nice change for this age group who seem to live in leggings and T's) and giving them a reason to get dressed up!
And party-goers were fed "cocktail snacks" - a simple and yummy assortment of "toothpick food" - sausages, fruit kebabs, cheese squares - all jazzed up by being served on silver platters. A chocolate fondue is a lovely idea for dessert for this party or alternatively, silver trays offering an assortment of choccies and brownies.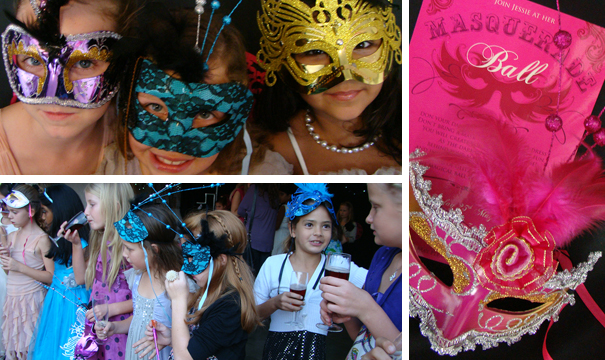 As part of the fun, the girls created their own masks at the party. Lay a long craft table with an assortment of plain colored masks, and fill large silver champagne coolers with scissors, glue and an array of feathers, wire poppers, pipe cleaners, jewels, glitter and sequins. Party guests will be busy for ages creating elaborate masks for themselves to wear for the remainder of the celebration.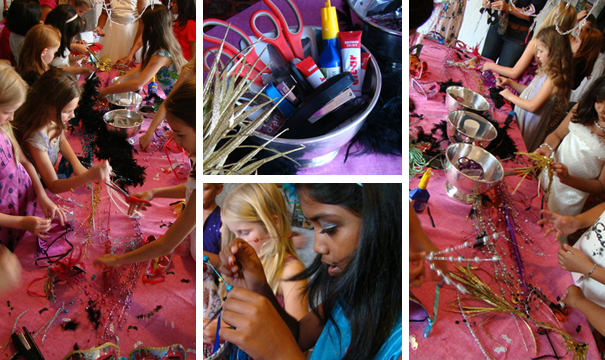 And for the rest of the evening, the girls just danced (with a bit of coaching from the Mums) to music from Stage Shows, such as "Phantom". Jess's cake was a flamboyant magenta creation - created simply with a hot pink cake adorned with a mask and lots of sparkle.
At the end of the evening, the guests each went home with a little sequined evening bag, containing a lip gloss - bought from Durban's local "China" store - a glitsy, inexpensive and very popular party pack, personalised with Macaroon's matching Masquerade stickers.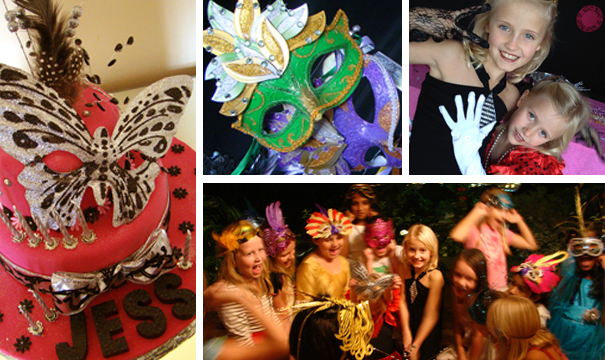 A dazzling evening of delight and dancing. Happy 9th birthday Jess! We can't wait to "Macaroon" many more celebrations for you in the years ahead!
As "Phantom" puts it - "Masquerade! Let the spectacle astound you! Masquerade! Stop and stare at the sea of smiles around you"... From the Macaroon team, until next Tuesday, wishing you a creative and flamboyant week!