Macaroon
has recently extended its already-varied personalised product offering to include useful and practical iron on labels for fabric items.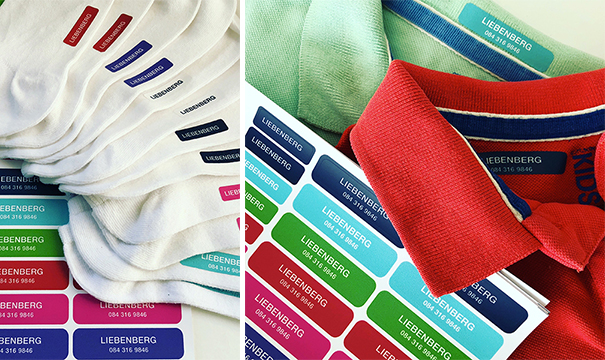 Macaroon's Iron On vinyl labels are a must-have in any organised home and an absolute necessity for labeling your family's clothing with ease. Perfect for labeling School uniforms, sporting kit, socks and all essential items, these little labels will ensure that your belongings don't go missing again.
The label packs are available in various colourways - pick between two classic monotones, a rainbow multipack, or boy or girl tones. The pack has as assortment of two convenient sized peel-off vinyl labels included. A pack consists of 100 personalised vinyl labels - personalised with your surname and contact numberThe iron on labels are simple and quick to apply. Simply remove the label carefully from this backing sheet. Place the label on a clean & flat area of the garment with the name & colour of the label facing upwards. Apply medium heat from an iron (tip: you can also use a GHD / hair straightener). Hold the heat on the label for 6-8 seconds until the label is sealed in place. Avoid ironing over label during future washing cycles.
These bright little labels will change your labeling life! Make sure you have personalised iron on labels in your organisational kit this year.