Another eventful weekend in our home as our six year old Son lost yet another tooth - his fifth so far. Each time one of his baby teeth loosens, is wiggled by him for weeks and then eventually falls out, I find myself with mixed emotions: sadness at how quickly my baby boy is growing up; and joy at watching his sheer excitement and anticipation as he prepares his ivory treasure for the Tooth Mouse and scrambles in the morning to check whether this teeny Fantasy creature remembered to visit him and reward him for growing up.
And, given that these teeth usually fall out at the most inopportune times (whether late at night or first thing on a Sunday morning), I always find myself relieved that I have one of Macaroon's little Tooth Mouse kits in my dressing table draw: magical little sets, perfect for kiddies who are starting to lose their teeth and perfect for Parents who want to turn this right of passage in to something to be remembered.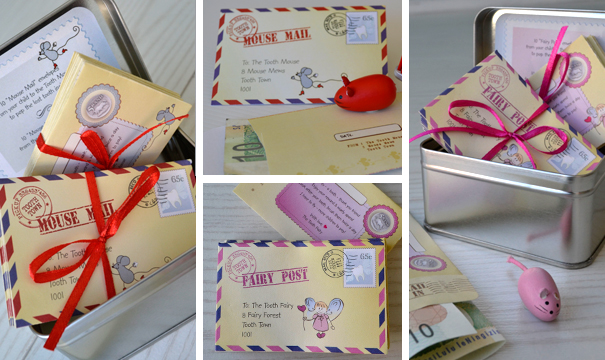 Each kit contains 10 sets of teeny credit-card sized envelopes: just the right size for a tooth or some money from the Tooth Mouse or Tooth Fairy! In each Tooth Mouse set you get 10 Mouse Mail envelopes to pop the lost tooth inside and leave out for the Tooth Mouse to collect - a tiny letter to the Tooth Mouse from your child - named & dated from your child on the back so that you can remember which tooth was lost when.
You also receive 10 Mouse Money envelopes (for Mom & Dad to hide away) that the "Tooth Mouse" leaves behind (with money popped inside) when he collects the tooth at night. The envelope includes a letter from the Tooth Mouse to your child - thanking them for the tooth and reminding them to brush often:"Hooray - A tooth - Thank You Friend. Enjoy your reward and wisely spend. Look after your teeth, brush them twice a day. I have to dash - more children to pay! With love, The Tooth Mouse"
The gorgeous little tooth fairy kits are made up exactly the same way - with 10 Fairy Post and 10 Fairy Funds envelopes. No more running around, writing letters, and hiding teeth in slippers, when your child's wobbly tooth suddenly falls out - At R150 per set, packaged beautifully in a matching tin, these adorable kits are a must-have in any parent's cupboard and also make a stunning gift.
And for those of you in Johannesburg, we also now have Maileg's adorable baby Mice for sale in our Studio. Each one is tucked up in its very own little bed and sleeps in an old-fashioned box; and they work perfectly with our Tooth Mouse envelopes. Our Son adores Mr Mouse and makes sure he is asleep in his box on the bedside table with the "Mouse Mail" envelope tucked safely inside on nights when the Tooth Mouse is set to visit.
When he lost his first tooth, I had to do some quick and quiet investigation on what the going rate for a tooth was. Thankfully we have older cousins in the family whose Parents could give me a guideline - you don't want your local Tooth Mouse to appear too generous or too stingy! But it seems that anywhere between R10 and R20 a tooth is the norm - inflation since the R2 note of our childhood! And while our six year-old seems to fast be becoming quite the tycoon with all his earnings, these are the little fantasies that children always remember and add to the joy of growing up. So until next Tuesday, from Macaroon and from the Tooth Mouse, keep warm and remember to brush twice a day ;-)