"Mary Mary, quite contrary, how does your garden grow?
With silver bells and cockle shells and pretty maids all in a row"
Let your little girl's imagination run wild by throwing her an enchanted garden birthday party - an imaginative and colorful theme with endless possibilities for fun and quirky décor and entertainment.
Our "Enchanted Garden" birthday party invitation will get the creative juices flowing - fully personalized with the birthday girl's photo and bursting with bright trees, flowers and garden creatures, this invitation will pave the way for a party where "silver bells and cockle shells" would be right at home! One of our clients used this range for her daughter's 6th birthday celebration - sheer delight for the party-goers and an old-fashioned afternoon bursting with creative fun.
If your garden at home lends itself to such a theme, transform it in to your own enchanted oasis. If not, use your local park, botanical gardens or a party venue that prides itself on its green outdoor space. Decorate trees and canopies with hanging flower garlands, bright paper blooms, hanging crystals, bells, and bright feathers - let your imagination run wild! Your local flower wholesaler or market will generally have a great range of cheap and cheerful accessories that can be used to turn any green patch of garden in to a wild bright Wonderland.
Keep entertainment colorful and quirky - a fun balloon sculptor is always a great option - and instead of having the children come to him or her, ask them to walk around the garden and interact with party goers as they sculpt balloons in to bright flowers, trees and garden creatures. A face painter is also a fun addition - and will ensure that all guests are transformed in to bright, interesting characters from your enchanted land. Also keep kids busy with a treasure hunt in the Secret garden - hide their goodie bags in the trees and amongst the flowers and let them hunt for them before home time.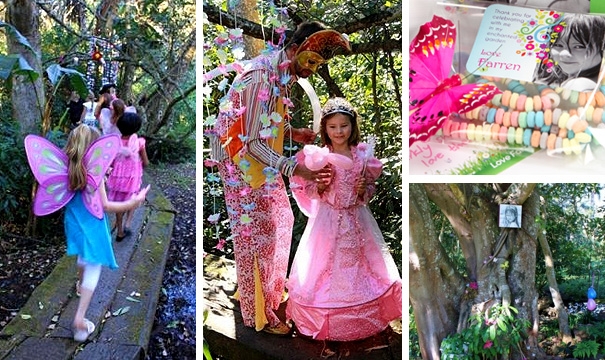 Quick and Quirky Goodie Bag ideas:
Order Macaroon's coordinated and personalized Enchanted Garden goodie bag stickers to transform cheap and cheerful party favors in to thoughtful thank-you's:
Simple cellophane bags, enhanced with your Macaroon goodie bag sticker, and containing an old-fashioned sweetie necklace or bracelet is our top pick for an inexpensive take-home treat. Sweetie necklaces are sold with 50 in a tub and can be divided between the goodie bags - always a firm favorite with little girls, and boys.
Simple pink or colorful paper bags, embellished with goodie bag stickers and tied with pretty ribbon can be also be used to package party favors: to keep in theme, garden seeds are always a great educational choice - include short instructions for party-goers to go home and plant the bulbs or seedlings and watch them grow in to beautiful blooms.
Little glass or plastic jars, as in the photos below, tied with a gorgeous ribbon and labelled with your Macaroon stickers are also great vessels for hiding in trees and housing all sorts of girly treats.
Feathered wings, fairy wings, tiaras, feathered boas, or feathered masks are also all fabulous choices - they can be tagged with Macaroon goodie bag stickers and given to guests on arrival. When paired with a brightly painted face, this ensures that the goodie bag doubles as the party fancy dress and gets everyone in to an enchanted mood.
Old fashioned biscuits shaped like flowers, iced in gorgeous bright sparkly icing and packaged in a simple cellophane bag and sealed with a personalized goodie bag sticker are also an old fashioned and thoughtful take-home treat.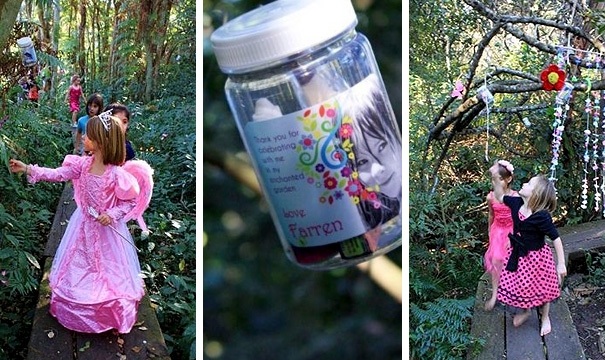 Macaroon's Top Tips for a Red Hot Party:
Carry your theme through from beginning to end.... Complete your Enchanted Garden stationery by ordering our "Enchanted Thank-you notes" on-line and having them delivered with the rest of your party stationery, meaning that they can be written and delivered the week after the party.
Make your party table bright and imaginative, with jars of colorful sweets and old fashioned treats such as jelly in oranges and bright drinks with crazy straws. Your local flower market will also sell feathered butterflies and insects that look wonderful resting on top of cake stands or on the edges of jars - as if they have landed there to join the party. A vase of blossom branches with fun feathered birds also makes a fabulous centre piece.
This theme also lends itself to old-fashioned party games such as pass-the-parcel, musical chairs and musical statues.
Let your imagination run wild when it comes to the birthday cake - a brightly iced cake, decorated with icing flowers, bright feathered butterflies and other enchanted creatures is sure to delight. A fun tower of bright cupcakes, decorated in theme is also a popular choice.
Use the "info" space at the bottom of your invitations to tell guests to come adorned in their most imaginative enchanted garden outfits - kids love to dress up and the chance to wear wings, tiaras and bright dresses is always fabulous fun.
If you like our Enchanted Garden theme, be sure to also look at our vast range of Spring birthday party stationery, where most of the same ideas can be used for a blossoming celebration!