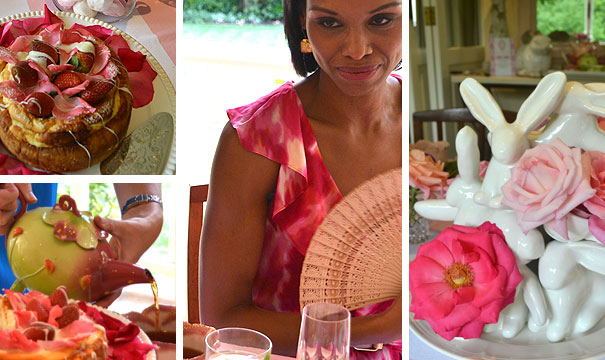 You may have seen the fabulous spread on "Entertaining With Macaroon" in the April 2011 edition of the glossy and glamorous "Destiny" Magazine. Pages 150 and 151 feature an indulgent Easter High Tea we hosted for a handful of loyal clients and friends. All the girls at the tea are stationery addicts and have been hugely supportive clients of our sylish social stationery since we launched late last year; and when "Destiny" asked us to do an Easter-themed entertaining spread, we decided that nothing was more indulgent than a traditional High Tea. So we thought we'd share some of our top tips with you...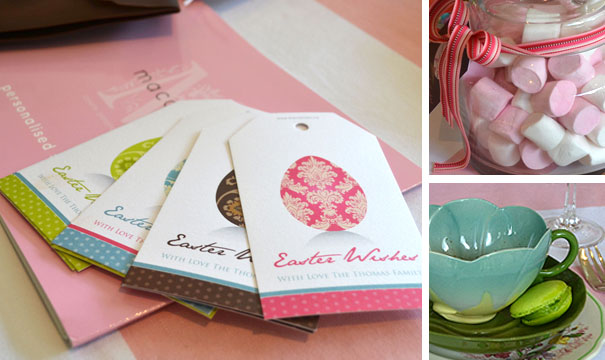 At Macaroon, we believe that High Tea is the new cocktail party! It is such a stylish, simple and indulgent way to entertain your friends. Have you ever seen an unhappy woman with a slice of cake and a glass of champagne…? Lay a lavish table, serve indulgent food, hot tea, ice cold bubbly – and the rest will flow!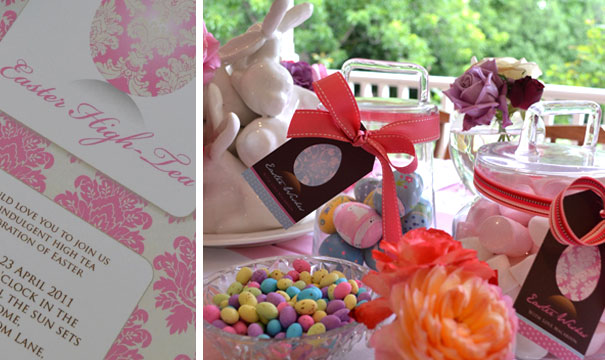 Set the tone by inviting guests with one of Macaroon's stylish invitations. We chose to use our classic damaske and faberge egg Easter stationery throughout our High Tea - super stylish yet pretty and personal in decadent Easter colours.
In England, the traditional time for tea is four or five o'clock and no-one stays after seven o'clock. Most tea rooms today serve tea from three to five o'clock. Generally, high tea should be served in the late afternoon, bordering on evening. We hosted ours late on a Friday afternoon so that our guests could celebrate at the end of the week and tea could naturally flow in to champagne (and it did)!
A successful High Tea is all about the decadent food and, at Macaroon, we love The Tart in Saxonwold, Johannesburg (www.thetart.co.za). Not only, do we think their name is quirky and clever, but they also make the most indulgent cakes and irresistible tarts. At our Easter High Tea, we served our guests a fresh vanilla sponge with berries and cream; an indulgent cheese cake, tea sandwiches, tomato and camembert tarts, and of course, macaroons. But traditionally, high tea includes three particular courses, served in this order:
Savories: tiny sandwiches or appetisers

Scones: Served with jam and clotted cream

Pastries: Cakes, cookies, shortbread and sweets
We also love the detail and thought associated with treating your guests to a party favour or take-home treat. Use our gorgeous personalised Easter tags or stickers to personalise decadent treats - such as jars of Easter eggs, Lindt bunnies - or simply use them at your place settings - it's all in the details!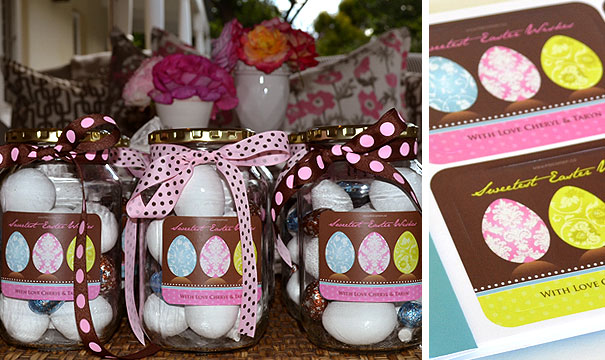 Macaroon's Top Tips when Entertaining:
Decide upfront on the theme or tone of your function – whether it is seasonal, particular colors, flowers or themed – have a plan for the look and feel you are wanting to create.

Set the tone before your function with the perfect invitation – guests so appreciate being formally invited.

Make your guests feel special with attention to detail on the place settings or party favors – there is nothing nicer than receiving something personalized and knowing that your host has taken the time to consider you individually.

At Macaroon, we believe that more is more! Create an abundant look by using pieces from around your home – mix glass and silverware of different shapes and sizes and create interest by using a variety of flowers from your garden or local flower market.

Create an oasis regardless of the occasion – a simple braai or afternoon tea can be transformed – use large champagne coolers filled with ice for your refreshments; jugs bursting with lemons, lime and mint for your water; cluster candles; and serve food on interesting dishes and platters – make your guests feel like they are set for a feast regardless of the occasion.
For our High Tea, we used edible Easter colours, such as peony pink, chocolate, duck-egg blue and pistachio green. Full blown garden roses combined with intricate tea cups, crystal glasses and fabulous food to set the scene for a gorgeous girly affair!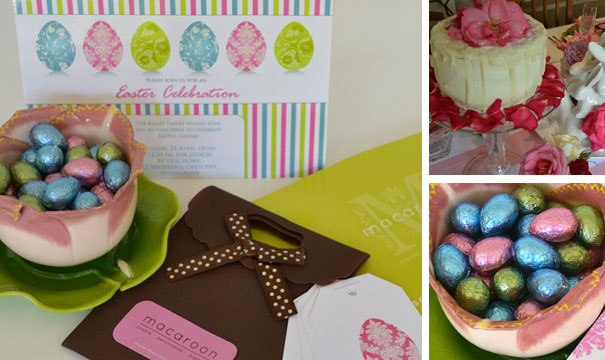 Some fun old-fashioned tit-bits of High Tea etiquette:
High tea should always be served seated at a high dining table (hence its name) – low tea or afternoon tea is served on a low (coffee) table in a lounge environment.

Some other very old fashioned but amusing guidelines: Apparently, i

n order for one not to spill the hot liquid onto oneself, the proper way to hold the vessel of a cup with no handle is to place one's thumb at the six o'clock position and one's index and middle fingers at the twelve o'clock position, while gently raising one's pinkie up for balance.

Tea cups with a handle are held by placing one's fingers to the front and back of the handle with one's pinkie up again allows balance. Pinkie up does mean straight up in the air, but slightly tilted. It is not an affectation, but a graceful way to avoid spills - there is an old-fashioned saying: "the higher the finger, the lower the breed"! Never loop your fingers through the handle, nor grasp the vessel bowl with the palm of your hand!

Do not stir your tea, with your tea spoon, in sweeping circular motions. Place your tea spoon at the six o'clock position and softly fold the liquid towards the twelve o'clock position two or three times. Never leave your tea spoon in your tea cup. When not in use, place your tea spoon on the right side of the tea saucer. Never wave or hold your tea cup in the air. When not in use, place the tea cup back in the tea saucer.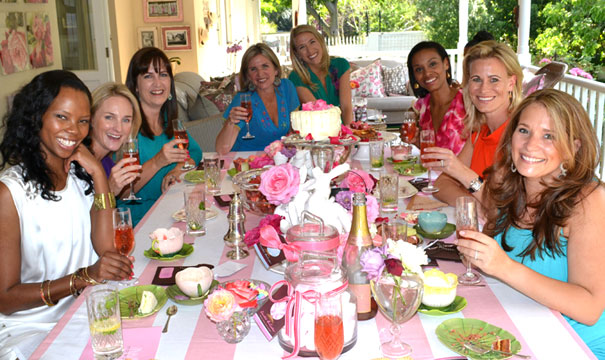 When asked by Destiny who the Top Five on Macaroon's invitation list would be (aside from our fabulous clients and friends of course!), we decided we would LOVE to have the following five inspirational ladies for tea:
Marianne Fassler – an icon of South African style and design and an inspiration to us. We adore her creations!

Carolyne Roehm – entertainer extraordinaire and stationery icon

Marie-Antoinette – because she allegedly coined the phrase "Let them eat cake"!

Audrey Hepburn – because she loves breakfast at Tiffany's. And...

Zelda La Grange – the right hand woman to our very precious Madiba
Can you imagine how much fun that would be?! Famous or not, there is nothing more indulgent than a bubbly-soaked afternoon High Tea with great friends.

So, from Macaroon, we wish you a happy & hopping Easter, indulgent, bubbly and uplifting times with family & friends, special celebrations, personalised parties - and to steal that famous phrase.... "Let them eat cake"