We are bursting with excitement and anticipation at Macaroon as we count down the days to the launch of our long-awaited baby range. The extensive collection has been designed by us with love and care and includes full ranges of stationery, from baby shower invitations to wish books and personalised nursery art - meaning that you can fully coordinate your new baby's stationery suite. Over the next six days, over one hundred brand new baby designs will be popped on-line, and July 2012 will see the birth of "Mini Macaroon".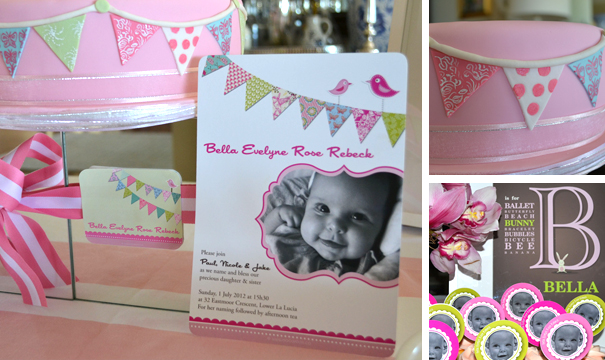 One of our personal favorites if our "Baby Bunting" range - available in Spring and Yankee color-themes. So, when my brother and sister-in-law told me that they were planning on holding a garden ceremony and tea to name and bless my beautiful brand new niece, Bella, at my Parents' home on the beach in Durban this past weekend, it seemed perfectly fitting that she be the first precious baby to to be celebrated with our brand new personalised bunting range.
The range also includes a baby shower invitation (in anticipation of your new arrival) and the prettiest of birth announcements. But Bella's celebration kicked off with the Spring Bunting Naming Invitation (pictured above). This pretty invitation, featuring hand-designed bunting by Macaroon and delicate birds, as well as a photo of the adorable Bella, set the scene for the prettiest and happiest of garden parties. To keep in theme, pretty bunting was strung around the garden where baby Bella's blessing was held.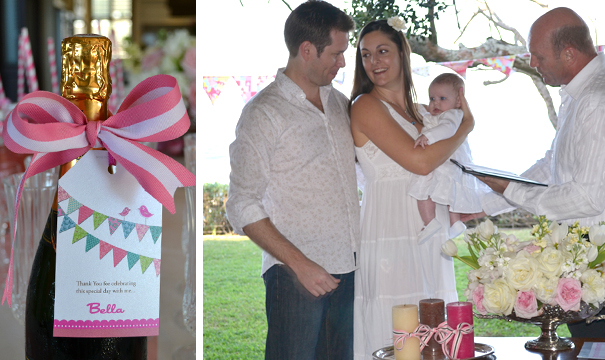 Refreshments were also themed: with personalised bunting tags, coupled with pretty pink and white patisserie ribbon used to personalise bottles of champagne and yummy bottles of old-fashioned pink lemonade (from Woolies). These were transformed with the coordinating personalised bunting stickers and striped pink and white paper straws. The table was laid in pretty pink and white stripes with soft feminine flowers and Bella's name was celebrated with Macaroon's letterland framed "B is for Bunny" (and also for Bella) poster.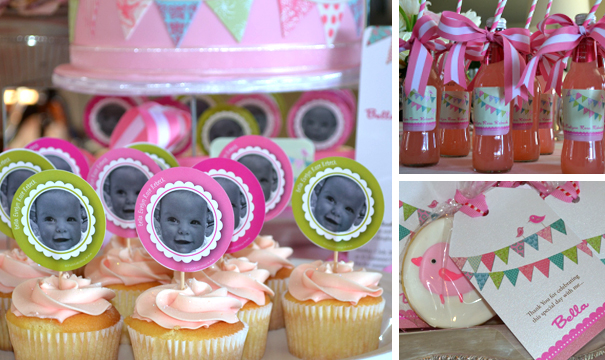 Soft pink cupcakes were given a personal touch with cupcake toppers, made by sticking a toothpick in between two of Macaroon's brand new round photo stickers - also launching this month so watch this space for these gorgeous and versatile stickers that have a variety of crafty and beautiful uses.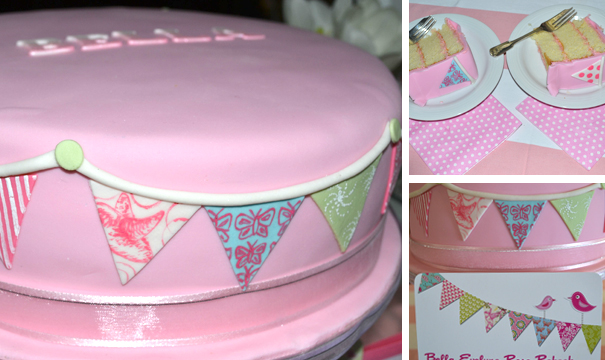 The bunting on the invitation was used as the focal point of the gorgeous cake - iced in a soft pink, with Bella's name on the top and decorated around the edges with identical iced bunting to that of the invitation. A simply stunning cake to make yourself or to order from your local home industry or patisserie.
Guests got to go home with a pretty bird biscuit - iced in theme with the little birds on the invitation - and personalised with a bunting tag from Bella.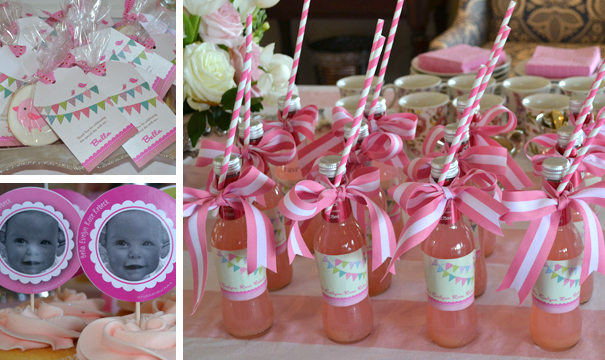 One of our favorite products in the new baby range are the Baby Wish Books - a gorgeous personalised co-ordinating journal, prompting friends and family to fill in a series of fun and meaningful wishes for the new baby. They include a gift section at the back allowing you to keep record of the gifts your baby has received and the givers. The range also includes co-ordinating thank-you notes, allowing you to write personal hand written thank-you's for all the spoiling.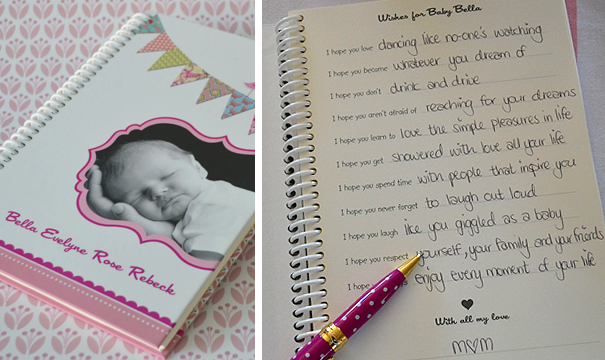 Such a happy day and such a fitting celebration of beautiful baby Bella's life, with her brother, parents, grandparents, great-grandparents, uncles, aunts, cousins and Godparents. What a blessed little girl and how blessed we all are to have her in our lives. She already has an infectious smile and eyes that dance and it seemed so perfect to celebrate her life in such a happy and uplifting way. Her name "Bella", meaning "beautiful" could not be more perfect.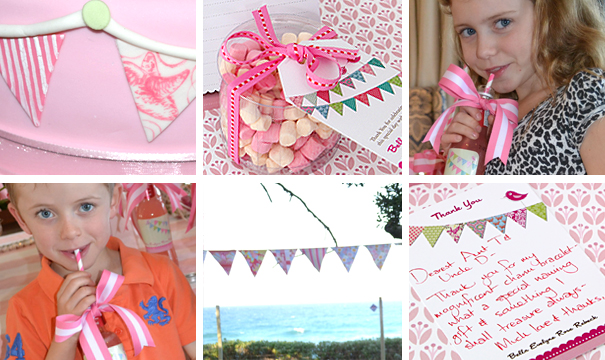 So, from the Macaroon team, until next Tuesday, we cannot wait to share the rest of our brand new baby range with you, and wishing you a beautiful "Bella" week!