I always find it so uplifting when the shops unpack their Easter stock: Shelves filled with brightly coloured foiled eggs and beautiful ribbons; the classic Lindt bunnies with their shiny gold bells around their necks; gorgeous Easter tins filled with decadent chocolates; delicious white bantam eggs that take me back to my childhood; and hot cross buns! There is nothing better than the smell of freshly baked hot cross buns in the oven!
I was lucky enough to grow up with a father who ran a sweet factory - I felt just as lucky as Charlie in his Chocolate Factory! And every Easter, my Dad would arrive home with huge chocolate eggs, decorated with sugar coated flowers and with my name iced across the front. I felt so spoilt! They were too precious to eat. Not only were they HUGE and made of solid chocolate, but they were PERSONALISED!
So I suppose my fettish for Easter and my passion for personalisation goes right back to when I was a little girl - which is why I couldn't be more excited about our newest addition to the Macaroon magic - our bold, bright and edible range of Easter stationery. In a gorgeous array of stylish designs and popping with delicious Easter colours, our latest offering is a true visual feast. More importantly, browsing through the new range may even make you Believe In The Bunny this Easter...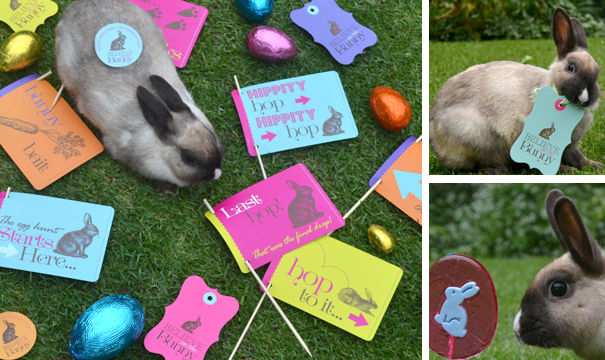 One of my personal favourites in the new range is our fun Easter hunt kit. Inspired by our own childrens' belief in the Easter bunny, this kit will make your Easter egg hunt fun and fabulous.
Each kit includes: Eight fun clue cards on mini poles for dotting around the garden; 12 paper bags for hiding your eggs inside as well as 12 "Believe In the Bunny" sealing stickers for sealing the bags or popping directly on to the eggs; four of our new gorgeous "Believe In the Bunny" scalloped tags; 10 of our new scalloped and round plain white tags, for scribbling your own clues, names and details on; as well as hot pink and turq tag ribbon; and two personal letters from the Easter Bunny! I always love to see the look on my kids' faces when they not only find the garden stashed with Easter eggs, but they get a personal letter from the Easter Bunny himself! It's all in the personal touches...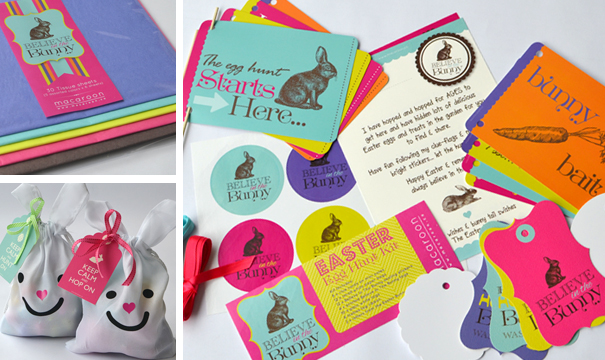 When coupled with our beautiful bright new Easter tissue paper packs and our adorable white bunny Easter hunt sacks, you will be happily hopping on Easter Sunday!
Our children are young for such a short time... take the time to feed their fantasies and make memories. And you never know, perhaps after you have read your letter from the Easter Bunny and followed some of the bright clue flags, you may just find that you too, Believe In The Bunny this Easter...
(With our thanks to Thumper the Bunny for behaving so very well while being Macarooned!)