All little boys love army games and all children enjoy dressing up and playing action adventure. So when Cheryl's twins turned four, a Bootcamp Birthday Bash seemed like the ideal theme for both the boys and the girls. The scene was set with Macaroon's Bootcamp birthday invitations - available in both classic camo for the boys and pink camo for the girls - inviting the troops to join Sargeant Jamie and Corporal Kayley for army action!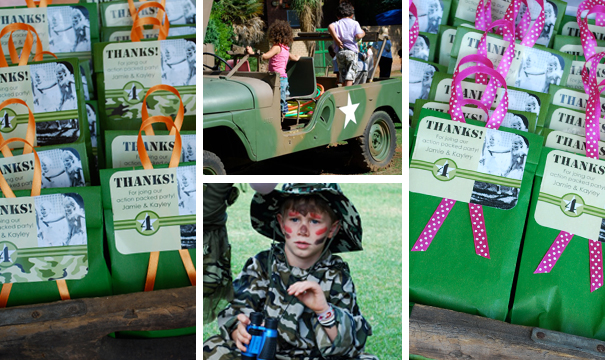 War museums are the ideal venue for an army party - allowing party goers to celebrate amongst genuine tanks, planes and army vehicles. But this theme works just as well in your own garden or local park. Guests were asked to dress in camo and report for duty at 14h00 sharp! On arrival, the troops were issued with floppy camo hats - bought from the local China store - a great way to get them in the army spirit and protect them from the sun at the same time. Jazz the girls' hats up with a pink ribbon for a bit of extra fun. If you want to go the extra mile, inexpensive army vests can be printed with the Birthday Boy or Girl's own Bootcamp logo and issued to your troops for uniformity! Paint the troops faces on arrival with black and green face paint in camo stripes to keep them incognito!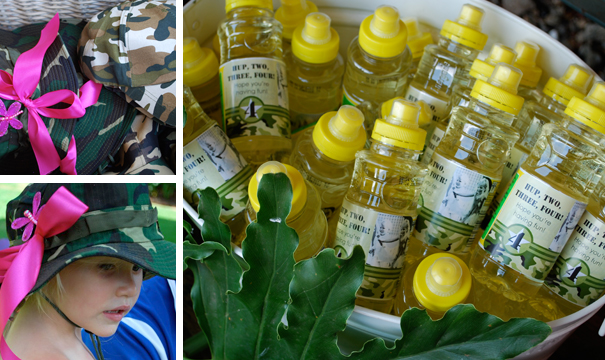 To keep the troops hydrated, fill large coolers with baby energades or small oros bottles and replace the labels with your themed Bootcamp Macaroon goodie bag stickers. Lay the party table with a hopsack or hessian table cloth and use large elephant ear leaves for greenery. Plastic army hats, turned upside down, are perfect for housing chips and sweets - keep party food themed in camo tones, serving sausages, crisps, camo jelly, green gum snakes, and cupcakes decorated with army stars and plastic army men.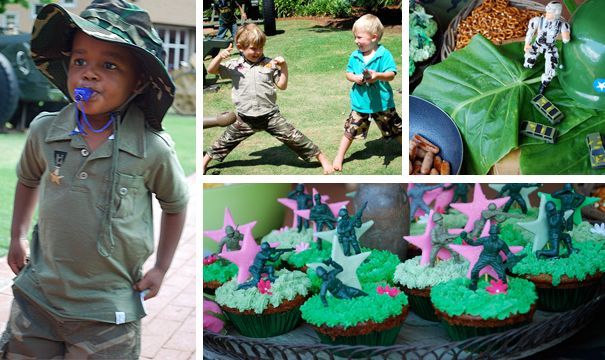 Keep the kiddies entertained the army way. Your local Action Andy or Playball Coach is ideal to train your troops. Issue them all with plastic whistles, get them lined up and use hula-hoops, obstacle courses, wagon relay-races and leopard crawling games to keep them active and entertained. At the end of your "army games", issue them each with a medal, made by attaching a gold chocolate coin to a ribbon. An army themed pinnata is also a fun way for them to release their energy - order one from your local toy store or fruit & flower shop, and let them at it! For an older age group, the addition of paint ball is a fun (and messy!) way to make them feel like real action army men!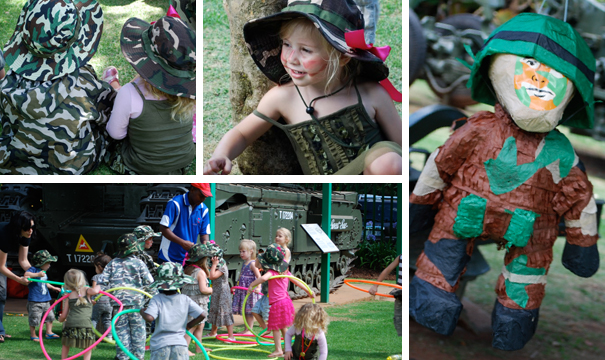 At cake time, either serve your army-themed cupcakes as the actual birthday cake - allowing each guest to get a plastic army figure with their cake. Or, you can never go wrong with an ice cream cake on a day like this. Troops will be hot and hungry and ice cream cones will go down a treat. Take a regular rectangular ice cream cake and set an army scene on top using plastic army tanks and army men - easy and effective!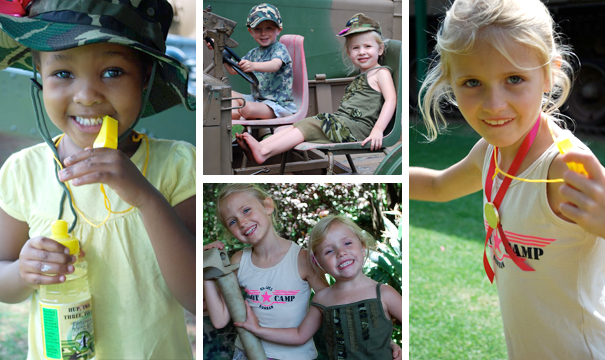 At home time, send the troops home with simple brown bags, sealed with Macaroon's personalised bootcamp stickers - also available in classic camo for boys and pink camo for girls. Whistles, cheap plastic bino's, and plastic army men all make great take-home treats. But given that an action party like this treats the troops throughout the day - with vests, hats, medals and army men - party packs can be kept very simple and limited to a themed energade and thank you sticker or a small brown bag of green gums. Both boys and girls will adore this action-packed party and it's easy and effective for Mum to execute.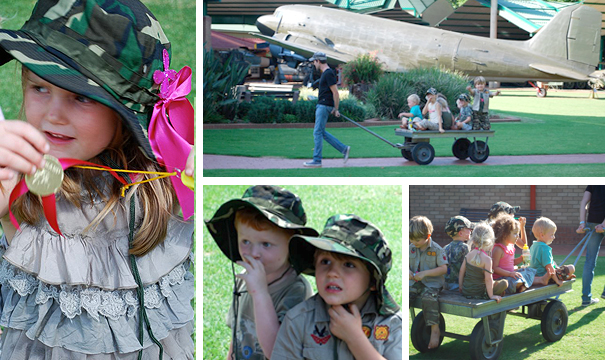 So - hup, two, three, four - Until next Tuesday, reporting for duty at the Macaroon army base!