Parents-to-be spend nine months choosing the perfect name for their newborn baby - a name that will stick with them throughout their life and be used in various forms on a daily basis. You may pick up nicknames over the years; you may get married and change your surname; but you will still always be Charlotte or Finn or Lucy or Jack. There is nothing more personal than one's name.
The team at Macaroon have been overwhelmed by the popularity of our letterland posters. Proud parents, thoughtful Godparents, and fab friends have been ordering them and framing them for their childrens' bedrooms, playrooms and as the perfectly personalised gift. You'll now find every letter of the alphabet available online for both boys and girls, each featuring a fun selection of words that begin with the same letter as the name, as well as an adorable icon. They coordinate beautifully with our alphabet posters and look fabulous when framed and hung alongside one another. We have also added an option to purchase them as an A5 card, with an envelope - a gorgeous greetings card that can be framed after you have given your gift.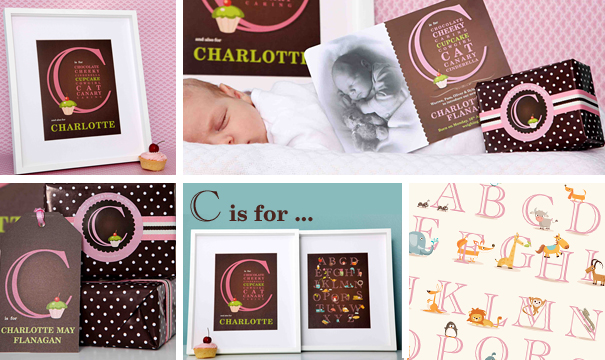 And we are HUGELY excited that the countdown to our brand new range of beautiful baby stationery has begun. In July 2012, Macaroon is giving birth to a new baby - an extensive range of stylish personalised invitations, announcements and accessories aimed at bumps and babies. Amongst the delightful offering, will be an extension of the popular Letterland range - and you will now be able to extend your Child's name and initials to birth announcements, invitations, thank-you notes, tags and stickers. A sneak peak for Macaroon fans in these pics - as well as a peak of our brand new circle stickers - available from early July.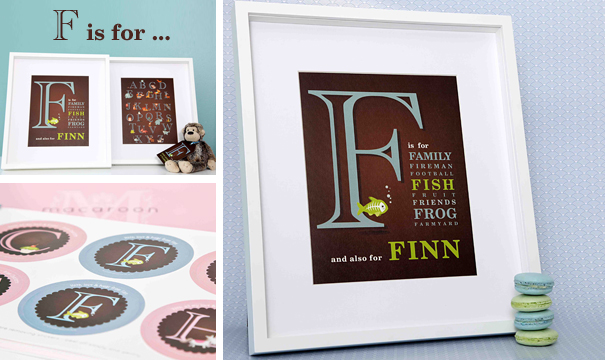 There is nothing more personal than your name. So celebrate it, translate it in to art and carry it throughout your stationery range with Macaroon's lovely Letterland designs.
So, until next Tuesday, from the Macaroon Team, wishing you a warm and wonderful week: W is for Winter, B if for Baby, L is for Letterland, and M is for Macaroon....