All boys are mesmerized by reptiles - so a party that includes crocodiles, snakes, lizards, and chameleons is sure to be a slithery, slimy, scaly smash hit!
Our "Croc Hunter" range of birthday party stationery will set the stage for the perfect celebration - fully personalized with the birthday boy (or girl's) photo and crawling with green reptiles and amphibeans, this invitation will get any croc-lover excited!
This party theme lends itself to any green, leafy, outdoor venue - your garden at home is a convenient and homely choice, but if this is not an option, the local park, zoo or snake park are also great alternatives. Ask party-goers to dress in khaki and keep décor simple and natural, using big leaves from the garden (delicious monster leaves look fabulous in vases and on tables), hessian table cloths, and wooden crates and boxes for display. Plastic snakes, crocs, lizards and spiders also make great creepy-crawly décor accessories.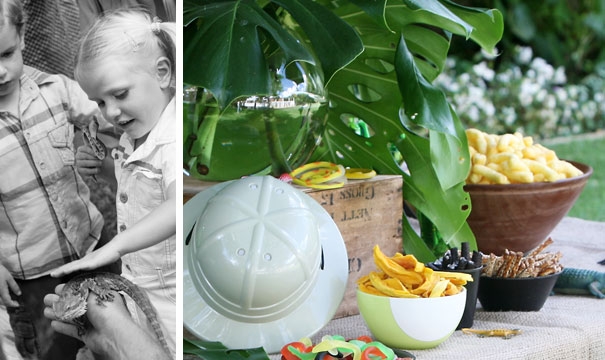 Search the internet or your local Kids magazines for a reptile show that will come to your home or party venue. The Reptile show will usually bring along a variety of snakes and lizards and sometimes a chameleon, bearded dragon or assortment or frogs and spiders - and will spend time teaching the children about the reptiles and allowing them to pet them and, in certain cases, hold them and be photographed with them.
A crocodile shaped jumping castle is also a fabulous source of entertainment and to keep kids busy, give them each a "Croc Hunter" brown paper bag (labeled with Macaroon goodie bag stickers) and get them to hunt for plastic crocs, snakes and frogs that have been hidden around the garden or park.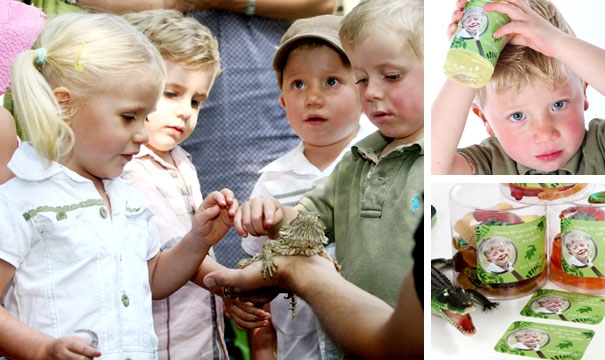 Quick and Quirky Goodie Bag ideas:
Order Macaroon's coordinated and personalized Croc Hunter goodie bag stickers to transform cheap and cheerful party favors in to thoughtful thank-you's:
· Simple plastic tubs from your local plastic store or fruiterer, personalized with goodie bag stickers, and filled with jelly sweet snakes make great take-home treats.
· Everyday brown paper bags, embellished with goodie bag stickers and tied with raffia or green ribbon can be used to package party favors: inexpensive plastic reptiles or slithery creatures that grow in water are cheap and popular choices for boys. If you hunt for reptiles at the party, also make this the take-home treat - give each child a labeled brown paper bag to house the plastic snakes and lizards they find around the garden, and allow them to take these home.
· Plastic pith helmets (usually available at your local Chinese toy store), make fantastic themed party accessories and can be given to the kids on arrival, to wear throughout the party and to take home.
· Our Macaroon goodie bag stickers fit perfectly on to a kiddies Energade bottle or kiddies plastic Oros bottle, so you can even theme your refreshments. Cream soda, apple juice and other green juices can be labeled as "reptile slime" for a slimy refreshment.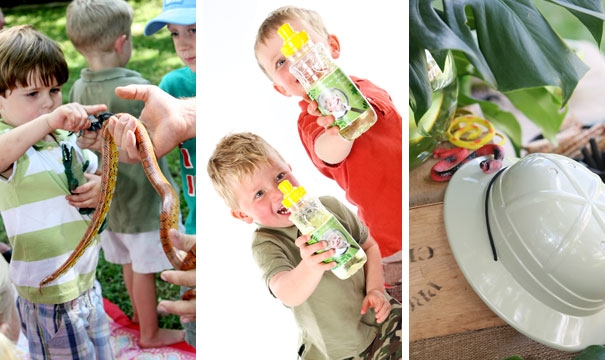 Macaroon's Top Tips for a Superb Slithering Successful Party:
Carry your theme through from beginning to end.... Complete your Croc Hunter stationery by ordering our "Croc Hunter Thank-you notes" on-line and having them delivered with the rest of your party stationery, meaning that they can be written and delivered the week after the party.
Create a fun party table by displaying food in wooden crates, wooden bowls or on top of large delicious monster leaves. Small tubs of green jelly with sweetie snakes set inside the jelly make yummy slimy treats. Sweetie snakes, green fizzers and other green sweets, together with dried mango and biltong sticks - all make simple delicious themed party food. Simple cupcakes with smarties as eyes and liquorice strips as legs make super spider cakes; and meringues made in to caterpillars and spiders are also delicious creepy treats.
For a simple, but impressive, birthday party cake, make a crocodile out of green cupcakes - so that each child gets a cupcake after the birthday boy blows out his candles. Use green vermicelli for the grass and chocolate flakes for wooden logs, and cut marshmallow pieces for the crocodile's nails and teeth. Cupcakes can also be made in to a long snake for an even simpler design.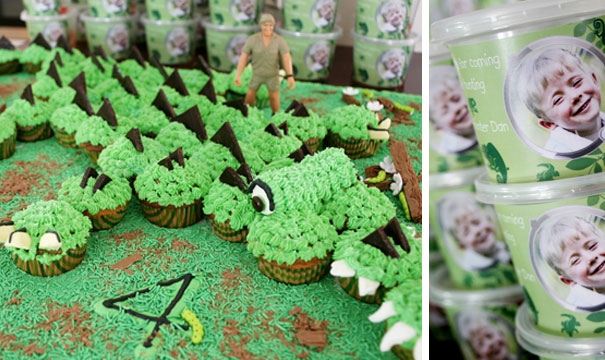 If you like our Croc Hunter theme, be sure to also look at our Safari and Zoo party stationery, where similar concepts and ideas can be used as you take your party guests on Safari!