"I know it's Easter time again. I feel it in the air. Brightly coloured Easter eggs. And Macaroon everywhere!"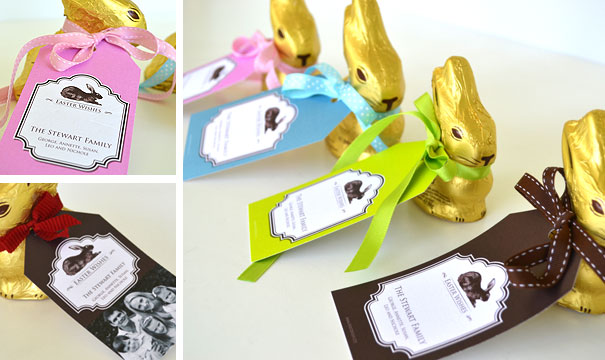 I always find it so uplifting when the shops unpack their Easter stock: Shelves filled with brightly coloured foiled eggs and beautiful ribbons; the classic Lindt bunnies with their shiny gold bells around their necks; gorgeous Easter tins filled with decadent chocolates; delicious white bantam eggs that take me back to my childhood; and hot cross buns! There is nothing better than the smell of freshly baked hot cross buns in the oven!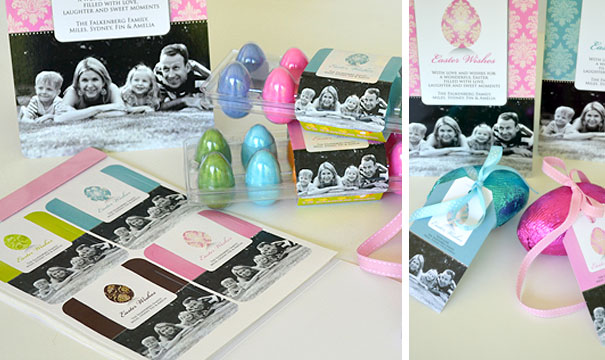 I was lucky enough to grow up with a father who ran a sweet factory - I felt just as lucky as Charlie in his Chocolate Factory! And every Easter, my Dad would arrive home with huge chocolate eggs, decorated with sugar coated flowers and with my name iced across the front. I felt so spoilt! They were too precious to eat. Not only were they HUGE and made of solid chocolate, but they were PERSONALISED!
So I suppose my fettish for Easter and my passion for personalisation goes right back to when I was a little girl - which is why I couldn't be more excited about our latest addition to the Macaroon magic - our edible range of Easter stationery. In a gorgeous array of stylish designs and popping with delicious Easter colours, our latest offering is a visual feast.
If, like us, you have a fettish for beautiful stationery AND have always loved the traditions, celebrations and spoilings associated with Easter time, you will be thrilled to see that you can now personalise and coordinate your Easter stationery. Add a special touch to your Easter eggs with our terrific tags or use our sensational Easter stickers to simply personalise your Easter gifts. Send your Easter wishes in style with our gorgeous range of personalised greetings cards. And invite your family and friends to an Easter brunch, lunch, high tea or egg hunt with our incredible invitations.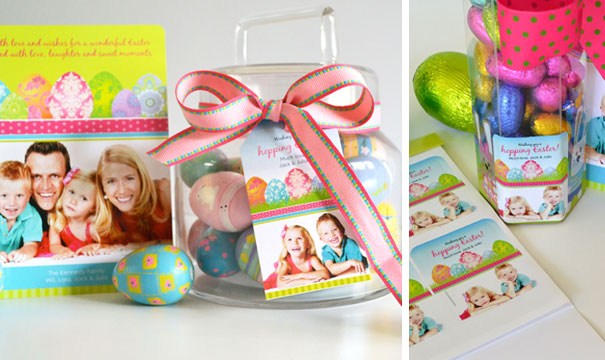 While we, at Macaroon, love to design beautiful things - we also love nothing more than to make life a little simpler for you. They say it's the little things that make all the difference - and our Easter suite of personalised stationery is the simplest way to add a stylish touch to your Easter treats. With very little effort, our stationery will make you look like a domestic goddess... Whether you are giving Easter treats to teachers at school, handing out eggs to your family, or placing party favours at your Easter table, our tags and stickers will add the finishing touch and make the recipient feel extra special. A few easy and effective tips:
Classic Lindt bunnies make gorgeous gifts - just pop a bright ribbon and your personalised macaroon tag around their neck. The same goes for the funky silver bunnies Woolies have in stock this year - we love their bright fluffy pom pom tails and ribbons round their necks - just slide on your Macaroon tag for a personal touch.
Woolies gorgeous chocolate tins of soetkoekies make a beautiful Easter treat for grandparents and look magnificent when tagged with our Macaroon blue vintage bunny tags.
Our stickers fit perfectly on to the classic bunny cardboard packs of dusted eggs in Woolies this year and the colour-schemes couldn't be better suited. The same goes for our Faberge tags and the beautiful blue tins of caramel eggs in Woolies - a perfect match!
Simply pop a personalised sticker on top of a six-pack of white bantam eggs or directly on to the tube of Woolies foiled eggs and finish off with a bright ribbon.
Buy big boxes of affordable mallow eggs and repackage in to smaller batches in simple plastic bags, sealed with your personalised Easter sticker.
Use Macaroon's personalised craft stickers when packing your home-baked hot cross buns (or repackaging your bought ones!)
If heading out for an Easter lunch, our stickers and tags also tszuj up a bottle of wine and add flair to a bunch of flowers.
Yep - there's something special about Easter time - it's uplifting, indulgent and takes us all back to our childhood. And everyone loves to feel special - so make sure Macaroon is in your basket this Easter.