Looking for a unique, fun and easy theme for your toddler's birthday celebration? What one or two-year old does not love their bath-ducks? and who does not smile when faced with a sea of bright yellow and white? At Macaroon, we just adore the bright quirky style of our darling duck "Quack Quack" party stationery - a fabulously fun theme for a little boy of girl's birthday celebration.
Kick your party off with our personalised "Birthday Quack Quack" invitations, personalised with your toddler's photo and inviting their little friends to join them for a fun afternoon of ducky fun. Then set the scene with simple yellow and white decorations: inexpensive fabric in shades of yellow, cut in to triangles with pinking shears and attached to yellow rope makes easy but effective bunting. Bright yellow balloons are also a firm favorite with one-year olds, and an easy way to brighten up your party setting.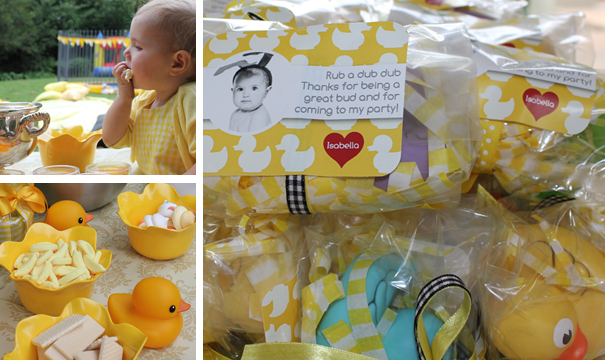 A fabulous idea for a first birthday celebration: buy these inexpensive yellow tubs from your local plastic store and fill them with a variety of interesting fillings for toddlers: one filled with water, one with rice crispies, another with sand, or puffed wheat. And pop a few bath ducks in to each - for hours of fun for the littlies.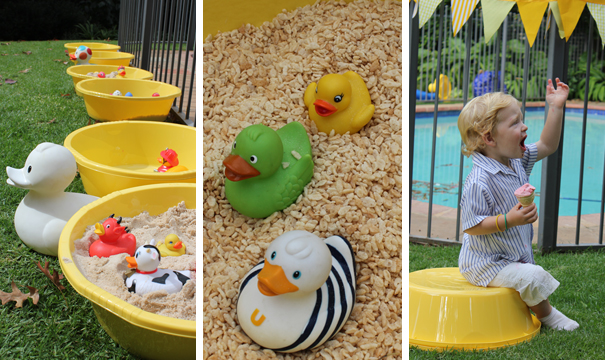 Bright yellow tulips either in vases or flowering in pots, buckets of yellow daisies, and potted daffodils in flower are all perfect for this happy occasion.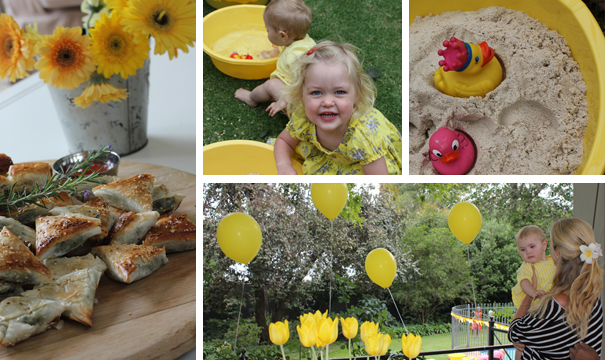 Continue your theme through to your party table and food using a long, low party table for toddlers, laid in a bright yellow striped table cloth. Plastic bath-ducks and yellow and white candy-striped ribbons can be used to add fun touches to the table, while inexpensive bright yellow plastic containers in a variety of shapes and sizes are ideal for displaying your duck-themed party food.
Serve party guests some healthy alternatives, such as yellow fruit skewers of banana, mango and pineapple; and duck shaped cheese sandwiches (make your cheese sarmies and then cut them in to shapes using a duck-shaped cookie or play-dough cutter). And also spoil them with a host of duck-themed treats: yellow banana sweets, yellow and white marshmallows, banana lollies, popcorn, flings, duck-shaped meringues, yellow jelly in orange quarters, and tubs of banana pudding - what more could a one-year old want?! And to drink, give each child a banana milk, personalised with your Macaroon Quack Quack sticker and a bright yellow twirly straw for drinking. Happiness is!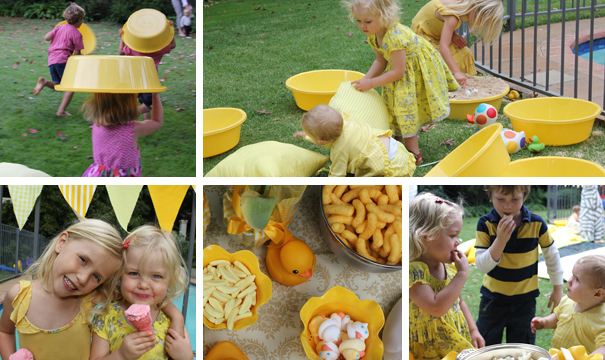 And for the cake? Transform a simple round ice cream cake in to your own beautiful bath-duck creation by icing it in blue and topping it with a variety of adorable darling duckies in a range of sizes.
At home time, send party guests home with their very own bath-duck, packaged and sealed with a personalised Macaroon Quack Quack sticker, and tied to a bright yellow balloon. And remember to thank them for their gifts after your celebration using Macaroon's coordinated personalised "Quack Quack" thank-you notes.
Such a fun celebration and a wonderful way to celebrate a bright, happy and Quacky first year!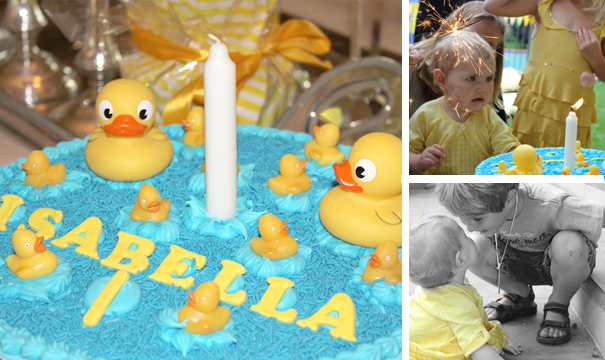 If you like this "Quack Quack" theme and want to shop the coordinating party stationery, click on the link below. And don't forget to send us photos of how you have Macarooned your celebrations. Also, be sure to let us know what themes and articles you would like to see in Macaroon Mag, and have a read back in our archives of some of our other fun party themes, tips and ideas. From the Macaroon team, wishing you a bright, happy and creative week - until next Tuesday.