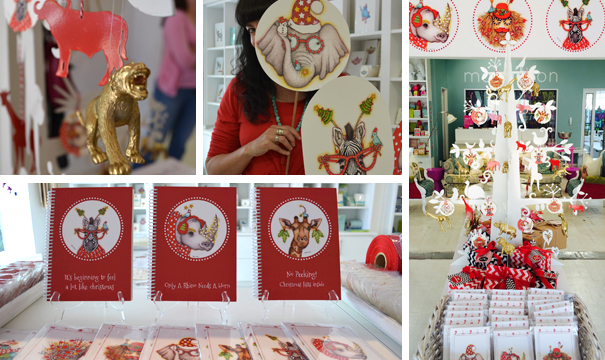 This October, the Macaroon Studio resembled the migration on the Serengeti as we launched our Christmas 2014 range of stationery and accessories - "Give Me An African Christmas", in collaboration with South African fine artist, Tracy Paul, for whom Macaroon already hosts a collaborative range of whimsical celebrations stationery.
"Give Me An African Christmas" comprises a quirky collection of hand-illustrated African animals, each accessorised with festive flair. ""When conceptualising our 2014 Christmas range, Macaroon chose to showcase both South African art and proudly South African animals - so our recent collaboration with Tracy Paul was ideal and was the spring-board from which our festive range took shape." says Taryn Hompes, co-owner and Director of Macaroon.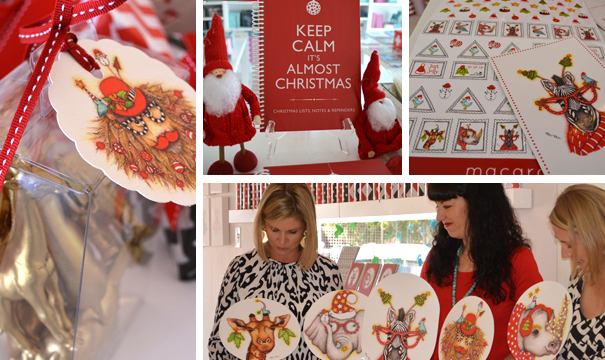 "Our brief to Tracy Paul was that we wanted the animals to look as if they had popped in to an old fashioned photo booth and dressed themselves up! We hand selected a Macaroon "Big Five" - slightly different from the traditional African Big Five - and Tracy brought them to life with her usual magic." says Macaroon's co-owner and Design Director, Cheryl Liebenberg.
When browsing the range you will meet Rudolph the Rhino, Mac the Porcupine, Tau the Lion, Zack the Zebra - along with a herd of elephant, giraffe and Tracy Paul's trademark bluebird - all adorned in festive accessories. On closer inspection, you will find that the porcupine is carrying pressies on his quills, the lion's mane is dripping with decorations, and the Rhino's horn is wrapped in fairy lights. Each animal has so much character and a festive story of its own.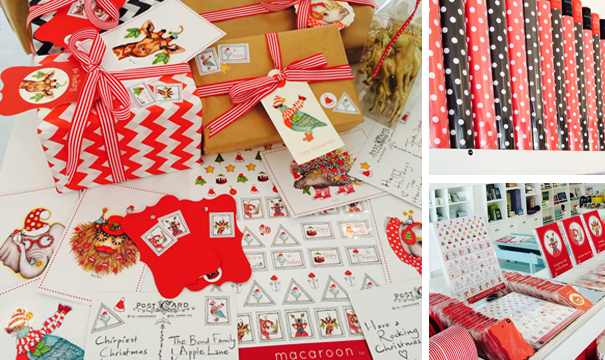 The range includes Macaroon's popular gift tag sets - available in both generic designs and to be personalised on-line. The gift tag sets have a multitude of uses, from traditional gift tags, to name place settings at your Christmas table, to fun tree decorations.
The animals also feature on the popular gift stickers and look fabulous on festive journals. Macaroon's favourite being Rudolph the Rhino who reminds you that "Only A Rhino Needs A Horn!" Macaroon's popular personalised Santa Sack's are also be available for personalisation, featuring your favourite festive African animal. New to Macaroon's range this year is a traditional postcard set, featuring the "Photo Booth Herd" and accompanied with quirky Tracy Paul vinyl stickers.
"Macaroon chose to offer postcards, instead of traditional Christmas cards this year - an idea which I just loved as there is such a sense of nostalgia associated with the ritual of writing and sending a postcard. I had tremendous fun illustrating them and dreaming up the vinyl doodles and stamps that accompany them" says Tracy Paul.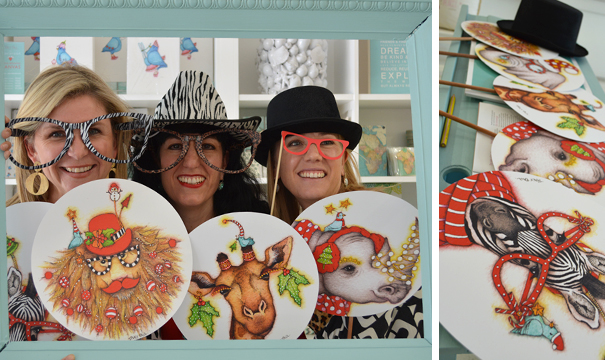 "Macaroon's main aim for Christmas 2014 is to encourage our clients to have fun in their gifting. Use our vinyl sticker sets with brown paper, pair our chevron wrap with punchy tags and simple ribbons, and put your stamp on your festive wrapping. Many of our products this year encourage creativity in the wrapping process and are a gift in themselves." says Taryn Hompes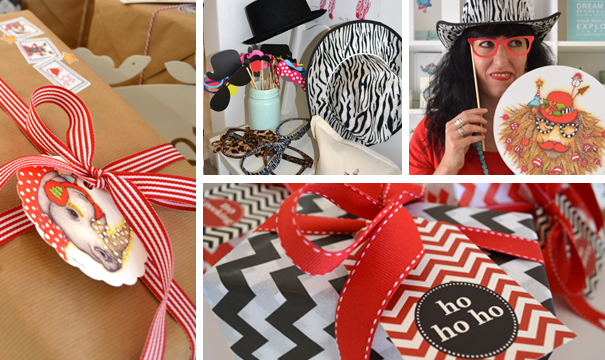 So this Christmas, join the migration with Rudolph the Rhino, Tau the Lion, Zack the Zebra, Mafuta the Elephant, Gertrude the Giraffe and Mac the Porcupine... all adorned in festive accessories and each with a festive story of its own.
Merry Macarooning - from our herd to yours!