It was Pablo Picasso who said that "every child is an artist" and how right he was! Having seen how much our own children love to draw, paint and create, we have spent some time developing a fun and bright range of art stationery - a creative collection of personalised art products for your budding artists.
I am personally MOST excited about our new personalised South African doodle pads, made up of 50 A3 scened pages featuring our trademark Mini Macaroon mates and proudly South African icons. We have been wanting to add something entirely unique to our range and have had so much fun working with a brilliant illustrator to come up with our new little family of four South African children and their adventures throughout the country. Named by our own Macaroon fans, Phoebe, Finn, Molly and Max will capture your hearts.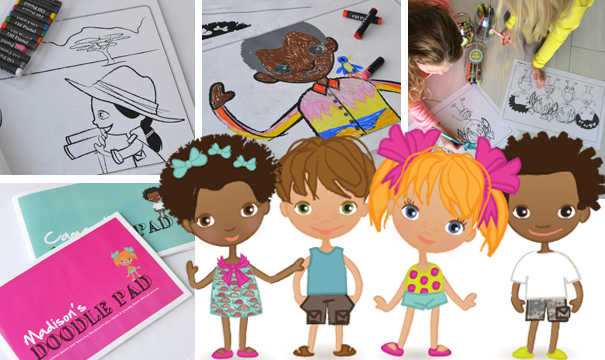 These beautiful doodle pads are such fun that it is hard to completely capture the detail of them online. Suffice to say that your children will adore them and will get out their crayons, khokis or pastels and join Max, Molly, Phoebe and Finn on their adventures throughout South Africa.
They will colour in unique pages and sketches that prompt you with questions such as: What pattern is Madiba's shirt today? colour in the SA flag; complete the Safari scenes; and you will visit Jozi, Cape Town, the beach, the soccer field, the game reserve and more...! The doodle pad is not just a regular colouring-in pad - it prompts the artist to solve problems and complete scenes. Each page is personalised with your name as the artist at the bottom, as well as on the bright personalised cover.
If I had to pick my favorite Macaroon product, it would be this - not only because it is proudly South African, but because it is entirely unique to us and the characters and scenes have been conceptualised, born and home-grown at Macaroon! I say it again - Macaroon's personalised doodle pad is a must-have for any South African child and the perfect gift for children abroad.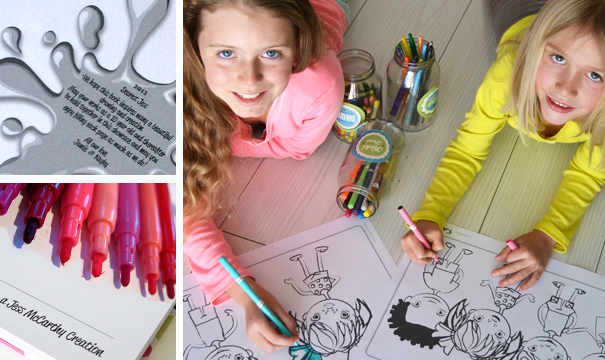 We have also added personalised art journals and personalised scribble pads to the range. The art journals are A4 hard covered, spiral bound sketch books, personalised both on the cover and on every inside blank page, while the scribble pads are available in A4 or A3 size and have tear-out pages, personalised with the artist's name. Both make a great gift for any little art lover and we have loved gifting them to our childrens' friends, along with some fun art supplies, bright pencil crayons, fun stamp sets or pretty pastels! I also love that the personalised art journals allow you to include a special message from the giver on the front page - making sure that they always remember who gave them the gorgeous journal that houses some of their precious works of art.
Speaking of works of art, if your household is anything like ours, you are inundated with art pieces coming home from School - and, while each one if special, they take up space and not every piece can be framed or popped on a pinboard. So, at Macaroon, we have started our own project of photographing our kids' art. As it arrives home, we store it in one of those big plastic storage boxes - available from any good plastic store - and once a month, we name and date each piece and digitally photograph them all - allowing us to keep a permanent record of their art and being able to part with the originals without feeling too guilty.
Then - at the end of their preschool years, or after their junior prep years, the digital photos can be used as part of your photo books, beautifully capturing their art at that age. We also encourage clients to upload photos of their childrens' art in to our art and craft sticker, tag and stationery templates - a great way to personalise your stationery or tags by transforming their favourite works of art in to personalised stationery and sharing their magic on your gifts.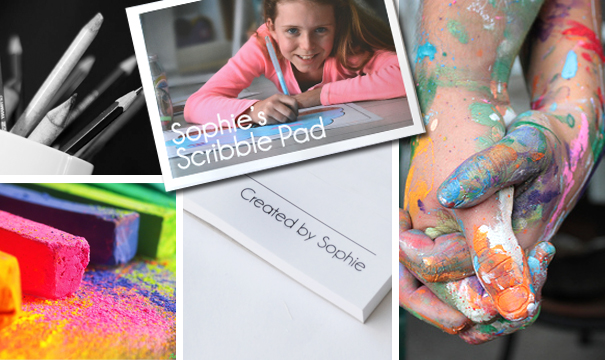 We have had such fun with this range... and love to see how many art-themed birthday parties and birthday gifts are being Macarooned at the moment, encouraging creativity and good old-fashioned fun! At Macaroon, we think we should all stay up late and draw - creativity is contagious, so pass it on and make sure you Macaroon their masterpieces!