Every little boy at some stage dreams of being a fireman when they grow up; so what better way to celebrate than a birthday party at your local fire-station or a fireman-themed party at home.
Our "Sound the alarm" birthday party invitation will set the stage for the perfect celebration - fully personalized with the birthday boy (or girl's) photo and featuring a shiny red fire engine, this invitation will get all the party-goers super excited and counting the days until they dress up as firemen and celebrate in heroic style.
If your local fire station permits, book it for your celebration as this Macaroon client did - and let the kids enjoy the thrill of riding on the fire engines, sliding down fire poles with real firemen and learning how to extinguish fires with a high pressure hoses. Alternatively, host your party at home and pay the fire station to send a fire engine to make an appearance. Ask party-goers to dress up as firemen or wear their best red outfits and inexpensive fireman's helmets from your local Chinese toy market, make great party favors and ensure that everyone will look the part.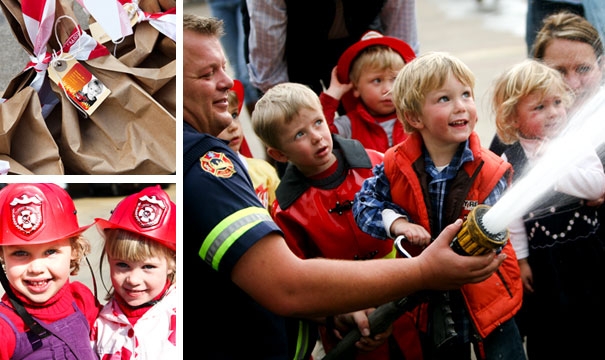 Quick and Quirky Goodie Bag ideas:
Order Macaroon's coordinated and personalized Fireman goodie bag stickers to transform cheap and cheerful party favors in to thoughtful thank-you's:
Red plastic buckets from your local plastic store or fruiterer, personalized with goodie bag stickers, and filled with a simple assortment of sweets or popcorn make great take-home treats.
Simple brown paper bags, embellished with goodie bag stickers and tied with chevron tape can be used to package party favors: to keep in theme, an inexpensive torch makes a popular and practical gift.
Fireman's helmets, from your local Chinese toy market, personalized with a goodie bag sticker on the front, ensures that the goodie bag doubles as something party-goers can wear throughout the celebration.
Old fashioned biscuits shaped like fire engines and packaged in a simple cellophane bag and sealed with a personalized goodie bag sticker are an old fashioned and thoughtful take-home treat.
Our Macaroon stickers are also great stuck on to simple tin mugs that party-goers can then take home, or even just stuck on to a plastic cup for an extra décor touch.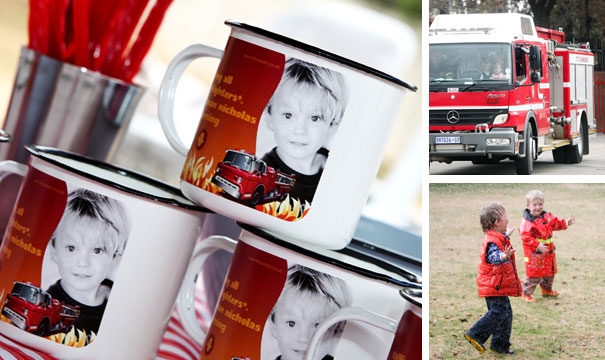 Macaroon's Top Tips for a Red Hot Party:
Carry your theme through from beginning to end.... Complete your fireman stationery by ordering our "Fireman Thank-you notes" on-line and having them delivered with the rest of your party stationery, meaning that they can be written and delivered the week after the party.
Create a fun party table by displaying food in red plastic buckets or upside-down firemans' helmets.... Use bright red sweets, jellies, juices, liquorice twirls and cupcakes to continue your red theme throughtout.
Use rescue-themed prizes for the party games... torches, walkie-talkies, or ropes - packed in brown paper bags with tied with chevron tape are great gifts for pass-the-parcel and other party games.
Use the "info" space at the bottom of your invitations to tell parents to bring a change of clothes as kids are bound to get wet at a party involving high pressure hoses!
If you like our fireman theme, be sure to also look at our Rescue 911 party stationery, where most of the same ideas can be used for a broader theme involving firemen, policemen, doctors, nurses and other local heroes!!
Fabulous Fireman Party photographs by Kate Miller Photography - visit our home page for Kate's latest specials. And thanks to our client, who has allowed us to feature her beautiful party on our site.