Before telling you more about our exciting new collaboration, let me tell you more about Tracy Paul - best known for her enchanting and whimsical sketches of African animals such as giraffe and zebra, wearing tutus and teapots, as well as her intricate bustier bras and eccentric dresses. You will instantly recognise her beautiful drawings from the range of popular greeting cards in Exclusive Books; so when Tracy placed a personal order through Macaroon and then approached us about doing a collaborative range, we were leaping with excitement and enthusiasm.
Tracy knew she wanted to be an artist since she was four years old; and art and whimsy have always been an integral part of her life. She studied at the Technikon Witwatersrand in Johannesburg, South Africa, where she completed a Higher Diploma in Fine Arts majoring in Printmaking. Tracy has been self-employed, selling her artwork for the last 20 years; and over the past ten years has also worked with local South African publisher, Stuff from Africa and an American publisher, Compendium Inc producing fun and successful ranges of stationery; before partnering with Macaroon on our new "Tracy Paul for Macaroon" range of stationery and accessories. Tracy aligns herself strongly with freedom of expression, cupcakes, peace of mind, corsets and the bluebird of happiness!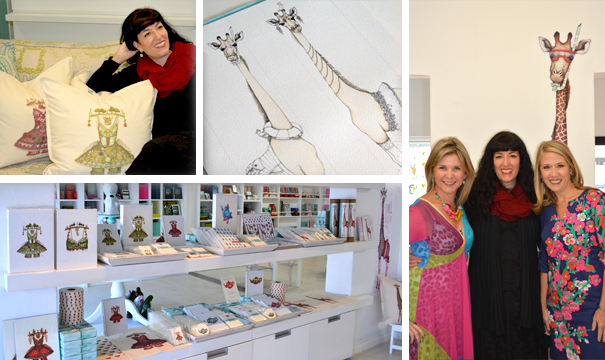 As mentioned above, last year, Tracy placed an order through Macaroon and when she popped in to collect it, we got chatting about the possibility of working together one day. Our casual chit-chat led to meetings and planning and new sketches and great excitement all round! And in June 2014, the Bluebird of Happiness nested at Macaroon and "Tracy Paul for Macaroon" was born. The partnership was a brand-match made in heaven. Aside from the fact that Macaroon's building is bright blue (so absolutely perfect for a bluebird!), the three of us clicked instantly and the creativity was contagious!
Macaroon launched its online stationery boutique in late 2010 and the brand has become well recognised in the three and half years since. One of the company's dreams has been to follow in the footsteps of international stationery houses and collaborate with artists to feature them as guest designers on Macaroon products. For Cheryl and I, "Tracy Paul for Macaroon" is the first of such collaborations and a proud moment for Macaroon. I believe that South Africa has a wealth of talented artists and designers and our collaboration with a talent such as Tracy Paul allows Macaroon to make her magnificent art accessible to the online market through our already established brand. We could not be prouder to be associated with Tracy Paul's whimsical works of art.
Says Tracy Paul, "I am completely thrilled about my collaboration with Macaroon. Their range is fun, gorgeous and beautifully produced. I feel like this is a really good fit for me. I haven't been this excited about illustrating in years!"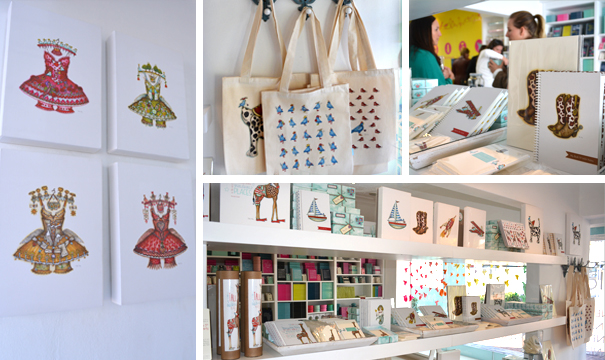 The collaboration meant that Tracy Paul's bespoke sketches were now made available across Macaroon's magical product suite. Macaroon's trademark invitations, journals, notepads, stationery sets, gift tag collections, classic bookplate stickers and vinyl products are now available featuring Tracy Paul's fine illustrations. Macaroon's design team has worked with Tracy Paul to combine some of her most unique pieces with Macaroon's quirky typography, bringing a fresh mixture of "art meets stationery" to the market.
Cheryl and her design team so enjoyed taking Tracy's illustrations, combining them with our typography and translating them on to Macaroon's products - her absolute favourite being the "Stand Tall, Dream Big" giraffe height chart. This pair of enchanting giraffe (affectionately named Betty and Geoffrey by the Macaroon girls) are available across the range - from huge life-sized wall vinyls down to adorable gift tag sets and I have no doubt that the South African and international market will adore the range as it makes the perfectly unique, personalised gift for someone locally or abroad.
Tracy's adorable illustrations have also been used on brand new "Tracy Paul for Macaroon" packaging so that all products come beautifully packaged in unique boxes.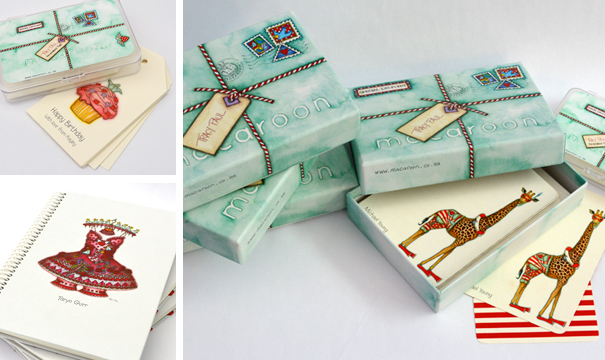 To celebrate the launch of the new range, we treated a select group of friends in the press and blog communities to a morning "Tea with Tracy Paul" at our Greenside Studio. Each guest received their own personalised Tracy Paul journal and gift tag set and spent the morning soaking up some whimsy!
Before the guests arrived, Tracy walked in to see fully stocked shelves of Macaroon products featuring her sketches, for the first time. She burst in to tears of joy - and so did we! And it was in that moment I realised that we had created something very special using hand-illustrated works of art - each of which had taken Tracy days and weeks to complete - and to see how beautifully they had scanned and translated on to our product offering was so rewarding for us all. Before this collaboration, our design team has always worked exclusively digitally on all of our ranges - so to work on a range where each product originated with a hand illustrated piece of art that cannot be digitally altered or tweaked, has been a treat for us all.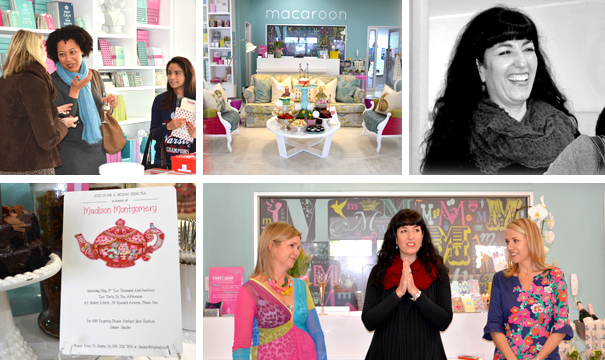 I personally just adore our new range of invitations featuring her whimsical works of art. They are classic, yet quirky at the same time. And whether you are having a celebration at the seaside, a high tea, a girls' night out, a long lazy lunch, a garden party, or any form of celebration - her sketches are a visual feast and fit so many themes. They really are the perfect way to invite your friends to a special celebration and I cannot wait to personally use one for an upcoming get together.
They have also been used on our fun range of cushion covers, canvas and poster prints, and popular tote bags - gorgeous gifts and a wonderful way to have a piece of her art in your home. Up until now, her art and prints have been relatively expensive - so this new range gives you the opportunity to own an affordable print.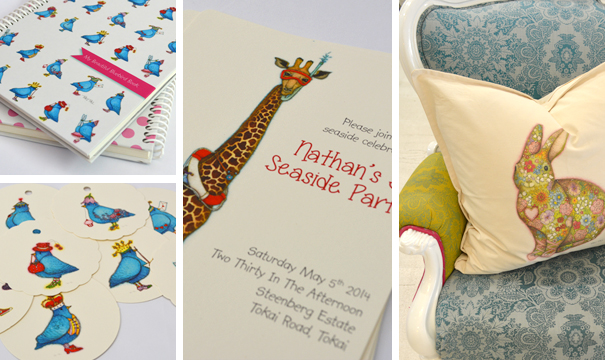 My other favorite are the "Tracy Paul for Macaroon" sticker sets - featuring all of her most popular designs. I use them to pop on pressies, envelopes, decorate my own gift tags, brighten up the pages of my diary - they just make me smile and who doesn't love a sticker? It takes us back to our childhood and brings out a creative side in us all.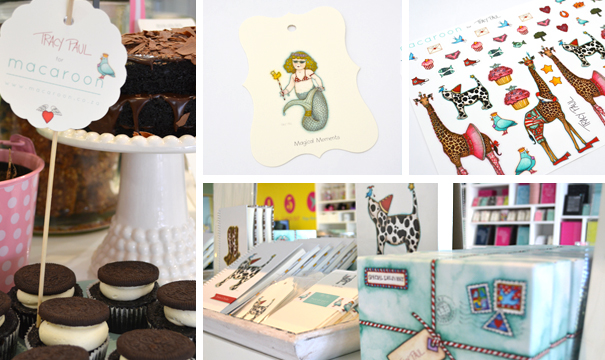 Tracy still takes commissions for bespoke individual original pieces and I have always dreamed of owning a Tracy Paul original. Well - how lucky were Cheryl and I to be gifted with her intricate original framed "Love Letters" - a "T" for Taryn and a "C" for Cheryl - completely overwhelming...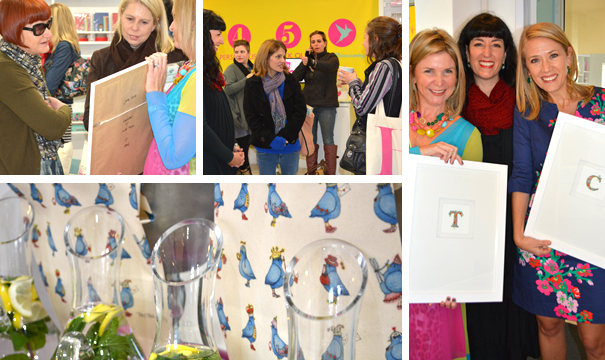 So we welcome with joy the Bluebird of Happiness and Tracy Paul to the Macaroon family and we really are all a twitter with excitement! Without a doubt the most exciting thing to happen at Macaroon this year - we cannot stop smiling and who can blame us with so many wonderfully whimsical characters surrounding us each day!
The "Tracy Paul for Macaroon" range will continue to grow, with new characters featuring prominently in our Christmas range later this year - we cannot wait! The range is exclusive to Macaroon - available online for personalisation or in-store at 19 Gleneagles Road, Greenside, Johannesburg. A selection of the range is also available in non-personalised generic products, available for on-the-spot purchases online or in-store. So hurry up and hop online or pop in and we will introduce you to our Bluebird of Happiness!