"It's your birthday, hip hip hooray. The Carnival's in town for your special day.
A carousel, balloons & a chook-a-train too. Yummy popcorn and candy for me and for you.
Join us in candyland where the fun never ends. A Fabulous Funfair with your special friends."
Every child loves the Funfair. And Carnival rides, games, balloons and cotton candy bring back feelings of nostaligia for adults. So a Carnival inspired birthday party is always a great choice - a fun unisex theme perfect for boys, girls or a joint celebration - and one that is guaranteed to delight party-goers.
Our "Classic Carnival" birthday party invitation will set the stage for the perfect celebration - fully personalized with the birthday boy or girl's photo and featuring classic Funfair icons, such as carousels and ferris wheels, this invitation will get all the party-goers in a Carnival mood. Available in varying colorways, this range of party stationery allows you to customize your Carnival for a boy, girl or unisex joint party.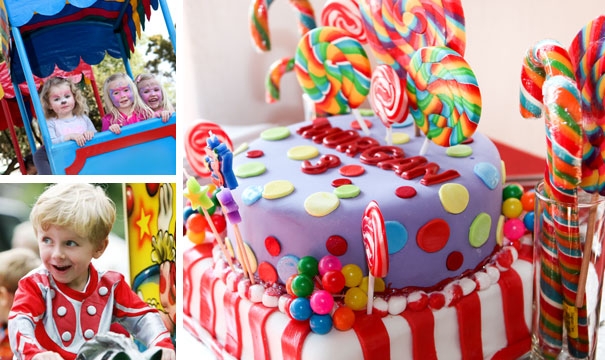 This theme lends itself to any spacious outdoor venue - your garden is always a homely and easy option. Or book the lawns of your local Sports Club or Country Club, as done by one of Macaroon's clients, who used this Carnival invitation for her daughter's 3rs birthday celebration. Bright balloons are a simple and effective way to decorate the party venue and broad red and white striped fabric, generally available at most fabric stores, create the perfect old-fashioned Carnival atmosphere when used as table-cloths on the party tables.
For entertainment, consult the web, or your local Kids magazines, for party companies who hire out carousels, trains or other Funfair rides - these are always a smash hit with children. An old-fashioned puppet show is also a fabulous party idea - especially is you ask the puppeteer to focus on clowns, jesters and other Carnival characters. More affordable options that also create a carnival atmosphere are the all-time favorite jumping castle, a face painter or a classic balloon sculptor.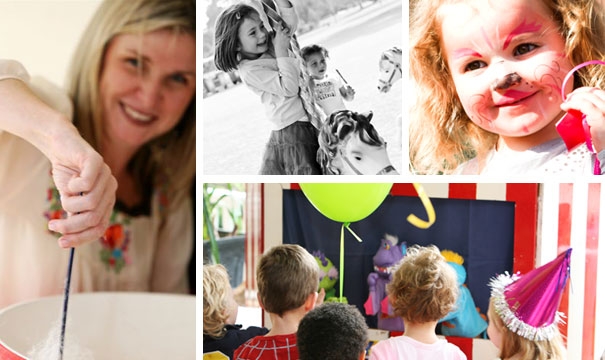 Keep party food simple and in-theme: a hot dog cart or chip 'n dip stand are great ways to offer children more substantial food, while keeping the Carnival atmosphere. Toffee apples and popcorn are classic Funfair favorites. And cotton candy is a must - either on the party table in packets or hire a candyfloss machine and make your own on-site and serve on long sticks.
Party-goers can either come in their regular party clothes and be decorated by the face painter at the party, or you can detail on the invitation that they come in fancy dress for some bright Funfair flair. For another fun party activity, have a "Funfair dress up corner" with baskets of bright clown wigs, jester hats, crowns, feather boas and other accessories - and let the children delight in dressing up. For an added touch, create a "photo booth" - with a home-made painted red and white striped "booth" made out of cardboard with a square cut out the centre - and ask a friend to snap photos of each child as they dress up. These are great to send out with thank-you notes for a personal touch.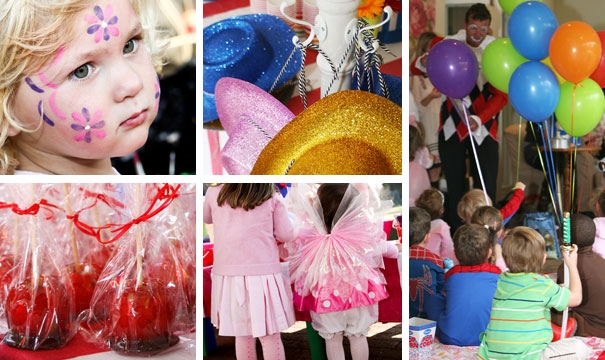 Quick and Quirky Goodie Bag ideas:
Order Macaroon's coordinated and personalized Carnival goodie bag stickers to transform cheap and cheerful party favors in to thoughtful thank-you's:
· Bright striped lollies make the perfect take-home treat - If they are big enough, stick your goodie bag sticker on the lolly itself. Alternatively, package it is a plastic bag and tie with a pretty ribbon and stick your goodie bag sticker on the bag. Macaroon's client, as in the pics below, gave all party-goers a classic red and white lolly in a simple bag - a delightful old-fashioned treat.
· Simple plastic bags, filled with cotton candy and tied with a pretty ribbon - finished off with your Macaroon goodie bag sticker - also make a great party thank-you (although probably better suited to morning parties when parents won't mind the sugar-high all afternoon!)
· Old-fashioned toffee apples make a lovely take-home treat - packaged in cellophane and tied with a red & white ribbon, and personalized with your Macaroon goodie bag sticker or tag, these really are a reminder of yesteryear. I am no sugar chef and have still successfully made these for my kids' parties - see the recipe below - messy but fun and rewarding!
· For a slightly healthier alternative, popcorn is always a popular choice - packaged in old fashioned popcorn boxes (available at some packaging stores or cake shops) or even in a simple brown paper bag, sealed with your macaroon goodie bag sticker.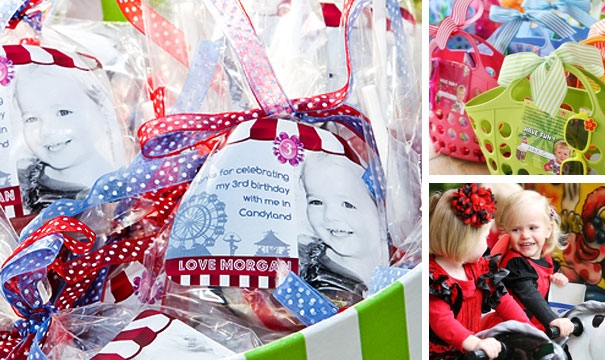 Macaroon's Top Tips for a Classic Carnival:
Carry your theme through from beginning to end.... Complete your Carnival stationery by ordering our "Carnival Thank-you notes" on-line and having them delivered with the rest of your party stationery, meaning that they can be written and delivered the week after the party.
Create a fun party table by displaying food in bright buckets or big old-fashioned glass jars filled with bright jelly beans and liquorice twirls. For a true Funfair feel, you can display your party food in "stalls" - allowing party-goers to go to different stalls to get their hot-dogs, popcorn or toffee apples. Sign each stall clearly using big, bright, fun signs. Watch this space for Macaroon's themed Party sign-boards - coming soon.
Give each child a book of "tickets" when they arrive... allowing them to use tickets to ride the carousel, have a balloon shaped, have their face painted, or at each food stall. A fun way to teach them how to trade and to give them the feeling of shopping at stalls.
For the birthday cake, a bright ice-cream cake served in cones is always a popular choice. Or make an impact with a multi-colored striped cake decorated with bright lollies of all shapes and sizes. Or, for the braver, a classic carousel cake will delight the birthday boy or girl.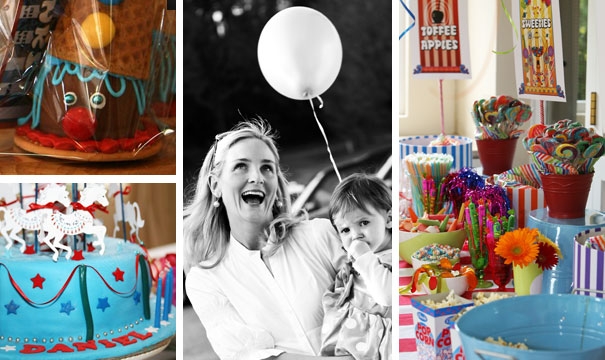 If you like our Carnival theme, be sure to also look at our other Funfair and Carnival stationery options, as well as out train-themed and Circus party stationery - where you can use many of the ideas above to get the same effect. Have fun - and remember to email any fun party pics to [email protected]
Quick & Easy Toffee Apple recipe:
10 small apples
4 cups sugar
1 cup water
1/3 cup glucose syrup
1 teaspoon liquid red food coloring
Rinse apples under cold water. Stand on a rack under completely dry; do not rub with a cloth, because it is important to keep the "bloom". Push a skewer three-quarters of the way in to each apple at stem-end.
Combine sugar, water, glucose and coloring in a medium heavy-based pan. Stir over heat without boiling, until sugar is dissolved. Boil, uncovered, without stirring, about 20 minutes or until the mixture reaches "crack" stage (154 degrees celcius on a sugar thermometer) - or test by dropping a teaspoon of the syrup into a cup of cold water; if it sets and can be cracked almost immediately, it is ready.
Remove syrup from heat; stand pan in baking dish of hot water for about 1 minute or until the bubbles subside. Remove the pan from the water and tilt. Dip and rotate each apple slowly in the syrup until it is completely coated. Twirl each apple around a few times before placing on to a greased oven tray to set.