If you, like us, are in the process of raising toddlers, tackling the terrible twos, or threatening threes, and the challenges that come with these years, we are sure that you will welcome all the help you can get. Which is why we are loving our latest addition to Macaroon's range of family organisers - our personalised kiddies' star charts.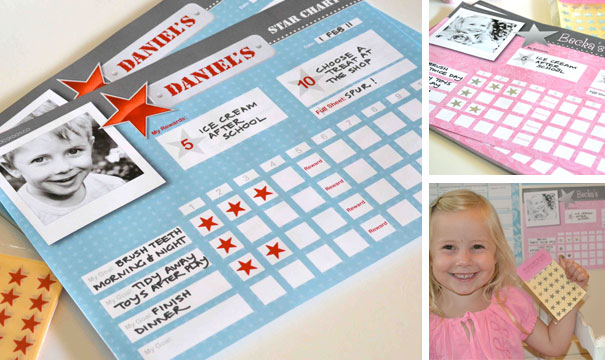 Personalised with your child's name and photograph, these cheerful charts are a fantastic incentive for your child to behave like a super star.
When putting them together, we tried and tested a variety of theories and lay-up options on our own brood. With four kiddies in 17 months between the two of us, we decided they were the perfect focus group! And after a few hit & misses, we finally seem to have found a winner! Our star charts work on a goal and reward basis. Together with your child, you decide on the targeted goals upfront: whether it is brushing teeth without being reminded, finishing meals, tidying rooms, packing away after play, going to bed on time, saying "please" and "thank you", or doing homework - you decide what is important in your family. Our charts allow you to target up to four behaviours at one time.
Likewise, the rewards are also negotiated up-front. Children receive a small reward after achieving five stars, a slightly bigger reward after ten stars; and their proper reward comes when they complete a full sheet. Once again, you get to decide, with your child, what rewards best work for you. Ours love ice creams from the ice cream cart after school - they now need to earn five stars to get one! They also love choosing a treat in the Woolies check-out queue (and Woolies seems to have plotted against mothers by lining their check-outs with treats!) - they now need to have earned 10 stars to get their sticky little paws on the much sought-after Kinderjoy egg in the check-out line! And if they manage to fill their entire sheet, they usually choose an experience - a trip to the zoo, an art activity or (sadly for us on a Friday night), dinner at the Spur!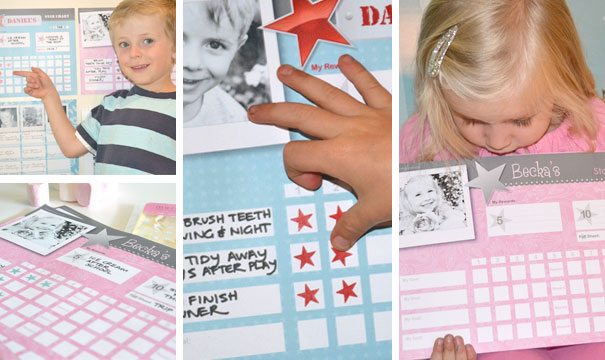 The chart is not day-of-the-week specific, allowing you to start a new page at any time – and ensuring that if a child has an "off" day, there are no bank spaces on their chart – when they get it right the next day, they simply carry on from where they left off.
Every time your child behaves appropriately, stick a star on the chart. Our charts are A4 in size and come in a pad of 40 pages, with 400 coordinating stars. They work like a dream in our homes! You can pop them on your fridge, pin them on your family pin-boards or stick them up in your child's room - and the completed sheets seem to have become a treasured item in our homes - stashed away in bedside cupboards to remind them of what they have achieved :-)
A final tip - Never take stars or rewards away - this is seen as punishment and goes against the behaviour you are trying to encourage by rewarding good behaviour - they have worked for their star or reward and it should never be taken away. Bad behavior will simply mean that they do not earn a star and that it will take longer for them to reach their reward - they'll soon learn this.
So try it out - order a star chart and see if it works for you and your child. Paired with our personalized weekly family planner, Macaroon will help you organise and personalise your family and your home in style.