At Macaroon, our clients are always our best market research. We love and value your feedback as you are the ones using and experiencing our site and our products. Our 2014 and 2015 personalised diaries were such a hit - you all seemed to use them as your life planners, filling them in with coloured pens and stickers, stuffing the storage folders with slips, vouchers and photos, and enjoying all the tabs and features. I personally got so excited every time I saw someone carrying a bright Macaroon diary around with them! We have had so much constructive feedback over the past year on what you loved and what you wanted more of: you needed more storage space and more space to doodle, list and write; you loved the colour and how the diaries indulged your childhood stationery obession; many of you begged for a page a day layout instead of the week of a glance that we offered last year; and so many of you mentioned colour and design.
So when designing the 2015 collection, we took this all in to account - and we are super proud and excited to launch our 2015 collection of diaries "Live A Colourful Life"! We have made two major calls on our diaries this year. The first is that we decided to send the inners for long-run print in order to be able to offer you a full colour, bright and uplifting inner - you will see the beauty and benefits of this below! So from 2015, you will simply pick your cover, from the 15 new designs we have on offer, and personalise it - with the option to include a photo on certain designs. The long run print does however mean that the diaries are a limited edition - with only 500 printed! So once they are sold out, that is it - so make sure you get your paws on one.
Our second major change is that, after much demand, we now offer the diaries as our week at a glance layout that you have all loved - allowing you to view your week over a two page spread. And we have introduced a page a day option... more details on the difference between the two layouts below...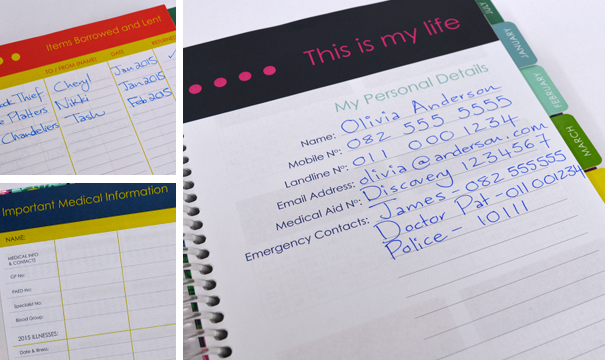 So, starting upfront, once you have picked your cover and open your diary: first off we have a "Plan" section with our "This Is Your Life" detail page - allowing you to fill in and list your personal information and emergency contacts. The planning section also includes other bright and useful pages such as a detailed page for filling in important medical information; a page to list the items that you have borrowed and lent - so that you don't forget; and a page to list your gift wish ideas that you pick up throughout the year.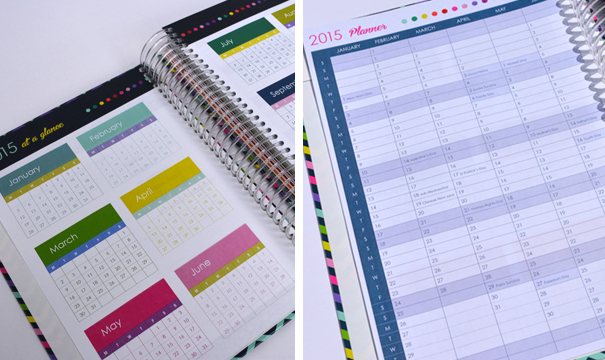 It also includes both the 2015 year at a glance upfront - you will notice that every month in the calendar is a block colour, coinciding with the tabs and colour-coordinated months later in the diary - for easy reference. There is also a 2015 planner - with the whole year at a glance - fabulous for planning holidays, filling in School holidays and simply being able to view your movements in 2015 over a double-page spread.
Another double-page spread features both 2014 and 2016 at a glance - allowing you to look both backwards and forwards when needed, as well as a detailed list of South African public holidays, occasions and observances.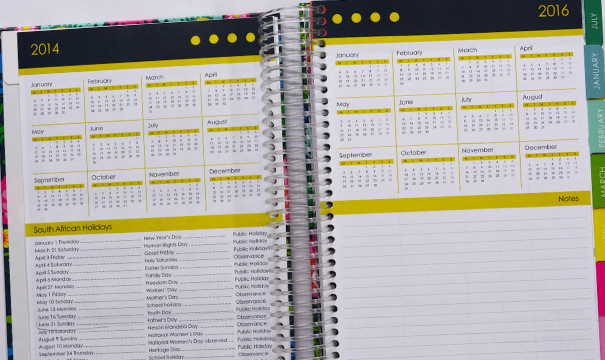 This year, we have tweaked the extra-mural activity planner so that you can fill it in for yourself and use it for your childrens' activities, if you have kids, or as a planner for your own exercise and hobby regimes. There are four double-page spreads, broken in to quarters of the year - so that you are able to change your plan based on seasons. It can also now be used by tweens and teens at School to plan their sports and homework schedules. Once filled in, it is a useful point of reference on what needs to be packed and prepared for each day. There is also a useful space to list the contact details of coaches, teachers and trainers at the bottom of each page.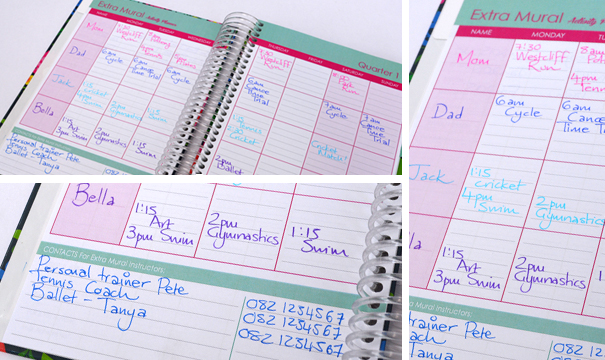 My personal favourite feature of the new 2015 planners are the colour-blocked months, bright tabs and uplifting monthly dividers featuring quirky, typographic, Macaroon-designed quotations. We have allocated a primary colour to every month of the year for easy reference - January is blue, February is bubblegum, March is chameleon green, April is limon, May is watermelon - and so it goes on. The bright divider tabs match the pages of that month - allowing you to visually see what month you are in when flipping through your diary.
For every month, we have picked a fun, uplifting, quirky quotation and our talented team of designers have transformed it in to a typographic divider - meaning that you start each month with a touch of inspiration. In January you feel the start of somethign new; February reminds you to live with passion; August tells you to always believe that something wonderful is about to happen; and our notes and doodles section points out that creativity is intelligence having fun!
These gorgeous bright dividers and the corresponding coloured months are, for me, what makes our 2015 diaries unique and indulgent - I can't stop smiling just looking at them!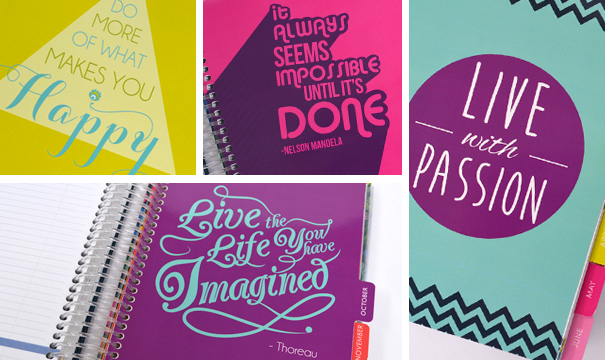 Looking further in to the diary itself, every month begins with a month at a glance layout. This is the perfect spot to plan your month and to use your vinyl icon and alert stickers. I always love what my month at a glance looks like once it is filled in with bright pens and stickers and I get excited for the month ahead just by sitting at my desk and taking the time to plan my month upfront.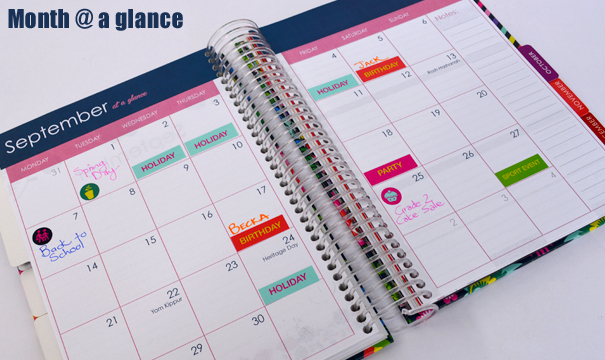 Our new page a day option allocates a full page per week day (Monday to Friday) and shares a page for Saturday and Sunday. The current month is highlighted top left, with a corresponding mini-calendar - for easy reference throughout that month. Times of the day are listed from 08h00 to 20h00, giving you space to fill in your meetings, appointments, school lifts; or our tween and teen customers use the full page to list their lessons, extra-murals and write down their homework to-do lists. This format gives you ample planning space. At the bottom of each page, is a small useful space to detail birthdays or daily reminders.
Given the layout, this diary ends up being substantially thicker than the week at a glance diary and is naturally slightly more expensive - at R700 - than the R550 week at a glance version - due to all of the additional full-colour printed pages.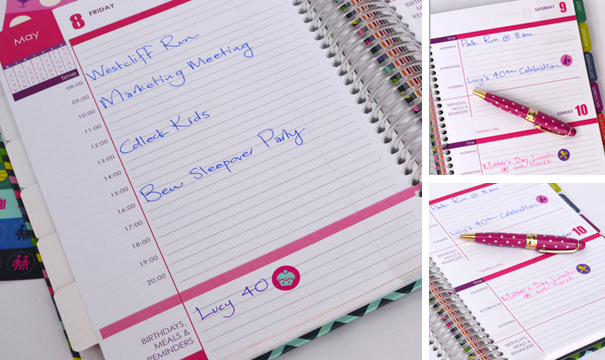 Meanwhile, our popular week at a glance layout is still available and is now in full-colour. This year, each day is simply broken in to three sections: morning, afternoon and night - and the layout allows you to view your diary plans for the full week across one double-page spread. This diary is perfect for the customer who wants to use it primarily as a planner and diary, and not as a notebook. As with the page a day, every month is colour-blocked and the monthly mini-calendar is always shown top left for easy reference.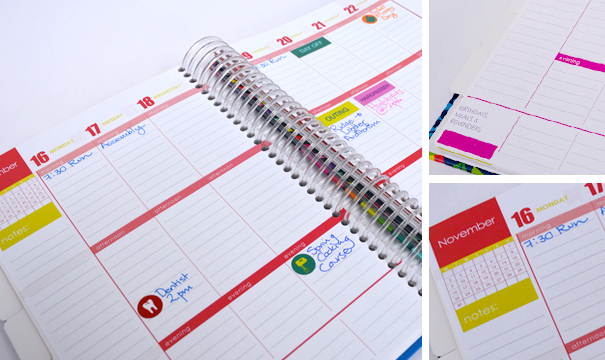 My other personal favourite feature of the new full colour prints is the notes section. Given the thickness of the page a day diary, it has fewer notes and doodle pages (around 22), whereas the week at a glance has over 60 pages allocated to this section, giving you additional space for lists and planning. But in both diaries, the notes and doodles section is made up of lined and blank pages, all featuring our beautiful bright fabulous Fiesta designs along the top of each page or up the sides. They are so pretty, I hardly want to write on mine! These pages will make sure that you live a colourful life!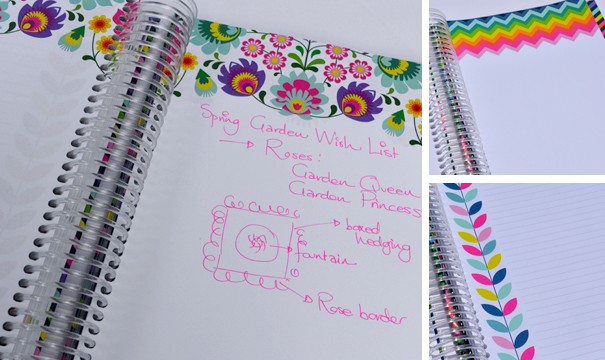 New at the back of the diary is a double-sided pocket folder, ver handy for storing slips, vouchers and other bits and bobs. Behind this pocket there are still two clear storage sleeves - the ones that you have always loved - for storing your stickers or other diary accessories. The three combined mean that you have ample storage space in your new diaries. Unfortunately, despite regular requests, we are not able to add additional clear sleeves to the back of your diaries as the diary gets too thick for the ring binder - so we have maxed out at our new storage pocket and two sleeves and are sure that you will love the combo.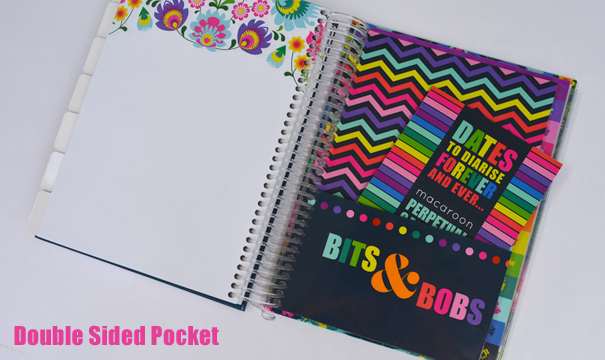 Our 2015 limited edition diaries also come with this FREE nifty A6 sized perpetual calendar - reminding you that "you can never have too much happy!" This bright little book allows you to fill in monthly birthdays, anniversaries and other important annual dates - and to move it from year to year in to your future diaries.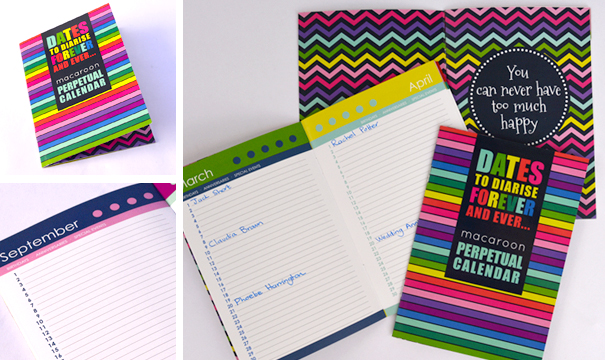 With the 2015 limited edition diaries, you will also receive four A5 sized FREE sheets of useful and bright vinyl icon and alert stickers. I simply love these little guys! They are perfect to pop on your months at a glance and such fun to use when brightening up your diary. If you use them all up, we sell top up packs online and in-store.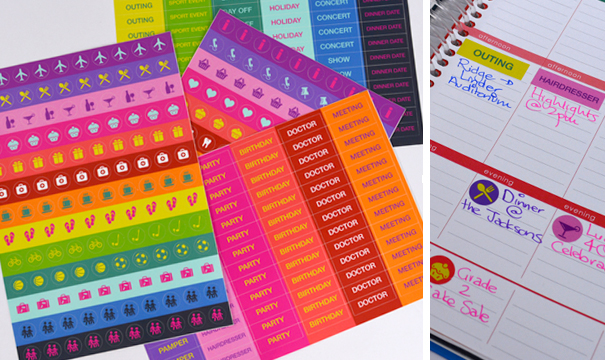 So that walk-through should give you a better idea of everything the 2015 diaries have to offer. We just know that you are going to love them! I am adoring mine - such a fun and fabulous way to get organised for next year. I have paired mine with a matching notebook for extra notes, a useful notepad for the occasional teacher note, and my bright desk planners and funky folders. My desk looks like a rainbow - but I am going to make sure that in 2015, I live a colourful organised life!