For those of us that grew up in the 80's, this Season's return to neon brights will bring back memories of bubble skirts, jelly shoes, fingerless gloves and leg warmers. I remember, as if it was yesterday, shaking my stuff at a School Social to Cindi Lauper's "Girls Just Wanna Have Fun", dressed in a lumo dress that had Madonna's face printed across the front, lumo jelly shoes, permed hair and large plastic earrings - thinking I was super cool!
20 years later, fashion - as is always the case, has gone full circle - and the Season's oversized T's, lumo leggings, and neon accessories take me right back to my teens. But most importantly, they raise my spirits and put a smile on my face. So, when we sat down to design some new stationery for the Season, a splash of neon was an obvious choice. And so, our Mardi Gras range was born.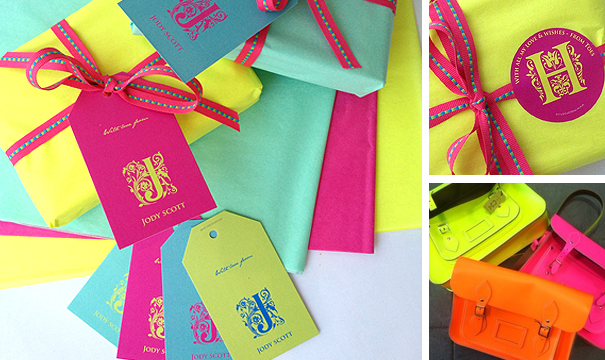 Available in both personalised tags and trendy round stickers, our Mardi Gras Macaroon Monogram design is uplifting and on trend and adds a pop of color to your stationery suite. Our popular personalised journals are also now available in our new "Spring Fling" design. And our nifty new tissue paper packs - in neon brights to coordinate with your tags & stickers - are a great addition to your gift wrapping kit.
So don't limit your passion for fashion to your wardrobe this Summer - invest in a couple of fun lumo accessories to keep your style current and order some Macaroon Mardi Gras for the trendiest gifting. My personal choice: a pair of lumo lemon pumps for my feet and a set of Mardi Gras tags for my hostess gifts!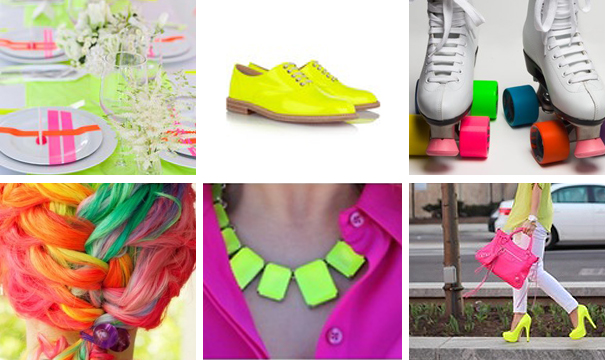 Until next Tuesday from The Macaroon Team, add a pop of neon to your day, hitch up your skirt, roll down your socks, shake out your hair, pump up the music and dance with reckless abandon to Madonna's "Material Girl". Happy Tuesday everyone!